The man admired by presidents and warlords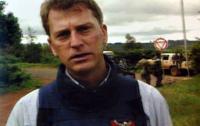 Road blocks can be tricky things - not least for journalists. Grenades brandished at car windows on narrow roads. Bored kids with big guns looking to make a point.
Sometimes a piece of official paper will get you through. Or cigarettes. Or lots of smiles. But often - and without wanting to sound too melodramatic - the difference between safe passage and something much nastier can boil down to a word, a name.
Saying "BBC" has helped me plenty of times - certainly more times than it's hindered. I've shouted it out in Chechnya, Afghanistan and Somalia.
In 2011 we were waved down by sullen armed men on a country road in Ivory Coast. I could see four, maybe five people tied up in the bushes nearby, staring at us in silent desperation. "Are you French?" the commander asked, menacingly. "We don't like the French."
A few days later, further south, I had to beg for the life of our local fixer. He was Muslim. The soldiers made him kneel by a ditch, a barrel jabbing the back of his neck.
Read full article The man admired by presidents and warlords