Cecil Rhodes monument: A necessary anger?
11 April 2015

From the section

Africa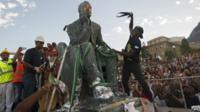 It all started with some excrement.
One night last month, a student called Chumani Maxwele scooped some poo from one of the portable toilets that dot the often turbulent, crowded townships on the windswept plains outside Cape Town.
The next morning, Mr Maxwele took his package to the foot of nearby Table Mountain - and to the imposing grounds of one of South Africa's oldest and most prestigious universities.
Overlooking the rugby field in the centre of the campus is an old bronze statue of a white man. He is in an armchair, one hand on his chin, the other holding some paper - and he is sitting forwards, like a man startled by something he has seen on television.
Mr Maxwele promptly set about smearing the statue - and in the process, ignited a furious and fascinating row about history, race and equality.