South Africa's 'brazen cover-up' of Zuma's home upgrade
29 May 2015

From the section

Africa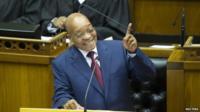 The offence itself was bad enough - an orgy of overspending by obsequious officials and conniving contractors who managed to spend 246m rand ($21.7m, £14.3m) of public money lavishly upgrading South African President Jacob's Zuma's private homestead, Nkandla.
That is nearly 10 times what taxpayers spent on Nelson Mandela's two homes, and 20 times what it cost to secure Thabo Mbeki's house.
As we now know, Mr Zuma's "essential security upgrades" included a swimming pool, an amphitheatre, a chicken run and a visitors' centre. A fairly humble collection of traditional buildings on a rural hillside has been transformed into something more like a luxury holiday resort.
But as is so often the case in politics, it is the cover up - long, venomous, hair-splitting and sanctimonious - that has been most revealing, and most depressing.
Some of Mr Zuma's closest advisers - those with an eye on image and votes, rather than on real or imaginary security concerns - were urging him from the very beginning to apologise for any errors and to volunteer immediately to pay for any unwarranted expenditure.
Read full article South Africa's 'brazen cover-up' of Zuma's home upgrade