Mnuchin, Perry and DeVos: Trump's nominees get grilled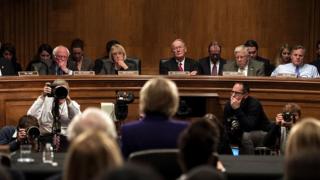 One after another, Donald Trump's cabinet secretary picks - the men and women who will be his top advisers and government managers during his presidency - are taking their turn before Senate confirmation committees.
While they've all been greeted with smiles, handshakes and warm introductions from their biggest supporters, some have fared much better than others. Here's a quick look at how some of them have performed under the spotlight.
---
Steven Mnuchin - Secretary of the Treasury
During his presidential campaign, Mr Trump condemned what he saw as a wealthy cabal of globalist bankers running the world at the expense of the American working class. On Thursday, a member of that Wall Street elite stood before a Senate confirmation committee as the president-elect's designated top economic adviser.
If there was a bit of dissonance surrounding this scene, it didn't appear to have too much effect on how the hearings unfolded. Democrats went on the attack, questioning Mnuchin's lengthy business record. They slammed his role as head of a bank that aggressively foreclosed on delinquent homeowners after the 2008 financial collapse and questioned his decision to create an offshore home for his hedge fund to help pension funds, non-profit groups and foreign entities invest without paying federal taxes.
Mnuchin responded by claiming federal rules tied his hands with foreclosures and he'd much rather have helped distressed homeowners modify their loans. As for the Cayman Islands subsidiary - which he did not include on his original financial disclosure forms - he insisted it was done to help clients and did not affect his own tax exposure.
Read full article Mnuchin, Perry and DeVos: Trump's nominees get grilled