Is Mike Pence distancing himself from Trump?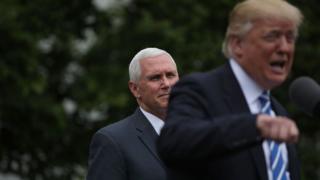 In the White House game of thrones, where senior administration officials fend off adversaries at every turn while vying for power and prominence, Mike Pence has been a relatively quiet player.
The vice-president is always in the background, often looking over Donald Trump's shoulder with an approving nod as the president delivers a speech or signs yet another executive order. When it comes to engaging in the bare-knuckle brawling that has played itself out through anonymous sources and well-timed insider leaks, however, the vice-president and his associates have largely stayed out of the fray.
Thursday night, then, was quite unusual. Two major US media outlets - CNN and NBC News - ran articles, complete with quotes from anonymous White House sources, distancing the vice-president from the current chaos in the administration and the running controversy over possible Trump campaign ties to the Russian government during the 2016 US presidential election.
"We certainly knew we needed to be prepared for the unconventional," an unnamed Pence aide told CNN's Elizabeth Landers, but "not to this extent".
The proximate cause for the concern among the vice-president's camp was a New York Times article earlier this week reporting that Michael Flynn, Mr Trump's prominent campaign surrogate and short-lived national security adviser, had in early January informed the presidential transition team - then headed by Mr Pence - that he was under investigation for his ties to the Turkish government.
Read full article Is Mike Pence distancing himself from Trump?