Bannonism lives on in the White House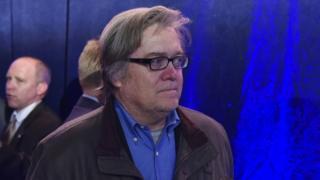 Steve Bannon may be out as a senior White House adviser, but Bannonism - if that's what it can properly be called - is still firmly entrenched in the White House.
Donald Trump, in a series of tweets on Thursday, bashed his Republican opponents and the media and defended Confederate Civil War monuments - the cause for which white supremacists and neo-Nazis marched last weekend.
The president appears to be forcing exactly the kind of fight with progressive groups that Mr Bannon, in an interview with Robert Kuttner, the co-founder of the progressive liberal magazine The American Prospect, said he welcomed.
Perhaps Bannon could hear the executioner sharpening his axe - but he was remarkably candid.
"The longer they talk about identity politics, I got 'em," Mr Bannon said. "I want them to talk about racism every day. If the left is focused on race and identity, and we go with economic nationalism, we can crush the Democrats."