Trump goes to war with 'un-American' leakers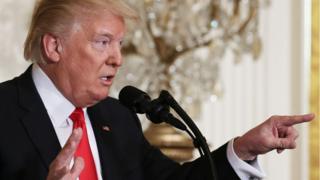 Washington is rife with political warfare, as 2016's presidential electoral combat spills over into Donald Trump's presidency and shows no signs of abating.
It's a battle of leaks and tweets, background innuendo and rhetorical broadsides.
In the middle of the maelstrom are federal law-enforcement and intelligence agencies and operatives that are supposedly above the partisan fray.
It hasn't worked out that way.
---
When leaks were welcome
During the campaign, Donald Trump loved to tout the latest news about the FBI investigation into Hillary Clinton's email server - whether through the agency's public pronouncements or background leaks to media outlets.
Read full article Trump goes to war with 'un-American' leakers