Mutual suspicion over the Great Repeal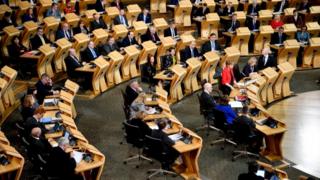 Parliamentary exchanges customarily assume a tone, a colour of their own. Perhaps the leitmotif is indignation, authentic or otherwise.
Perhaps it is consensus, when members commonly recognise that they have a task to undertake. Perhaps, again, it is tension, when a significant vote looms. Or joviality, when a respected member is on form, or Christmas is near.
Today, at Holyrood, the emblem was suspicion. In part, this was reflecting the broader atmosphere created by Brexit with its attendant issue, independence. Each party, each leader, wonders what the next step will be from rivals.
In part, that arises from older enmities. Holyrood's two largest parties are now the Scottish National Party, with a long-nurtured policy of independence, and the Scottish Conservative and Unionist Party with……well, study the name.
So when those parties are responding to the Great Repeal Bill, it is inevitable that there will be mutual suspicion.
'Power grab'