Taxing talk of budgets and business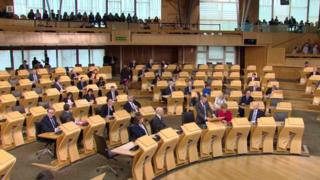 Nothing concentrates ministerial minds more than upset voters. Especially when there is an election pending. In Scotland, there is always an election pending. Or a referendum.
The SNP's calculation was that Labour intended to attack them at the local elections in May with claims of service cuts. And that the Tories planned an onslaught founded upon rises in business rates.
These factors are, in part, the motivation behind two significant announcements during the Holyrood budget process which reaches its culmination this week.
Firstly, the Finance Secretary Derek Mackay struck a deal with the Greens in which tax revenue was directed to local councils.
Mr Mackay had repeatedly insisted that local services more generally were being protected. However, he was content, politically, to divert cash explicitly to local authorities.
'Standing up for Scotland'