Scaring Tavish Scott at FMQs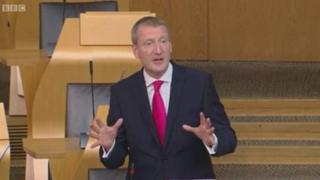 It takes a lot to scare Tavish Scott. He is after all from Shetland where the weather frequently rivals Antarctic conditions. In June.
But, apparently, recent developments in Scotland have left him in a state of fear and trembling, to borrow from the title of Søren Kierkegaard's greatest thriller. (Don't bother looking up the plot, turns out the jannie did it.)
And what has produced this state of trepidation in the Viking one? It is, according to Ruth Davidson, the appalling condition of the Scottish education system.
Ms Davidson, who leads the Tories, was citing comments made during a recent Holyrood committee hearing. Ms Davidson was seeking to assemble an argument to the effect that all the members of Team Scotland were shocked and appalled by what is going on in our schools.
One understands her desire to mount such an attack. But she went, perhaps, just a mite overboard. In her wide-ranging condemnation, it sounded as if Scotland's offspring were, almost without exception, unable to spell the word "Higher", let alone sit one.