FMQs: a stormy session before the summer recess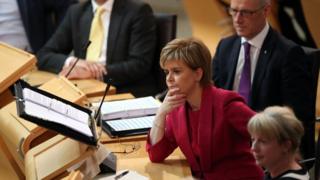 Looking ever so slightly bemused, like a model pupil who has stumbled across a playground fight, Patrick Harvie of the Greens tried to lift the mood in Holyrood by wishing every single MSP "all the best for the summer".
Outside, the rain poured down, passing effortlessly from torrent to monsoon. The storm assaulted the Parliamentary windows with unyielding ferocity.
Still, despite that, on this last day of the session, our MSPs were in cheery mood, weren't they? Bidding each other a fond temporary farewell?
Chums, they were not.
Ruth Davidson - nearly - called the First Minister a liar. Nicola Sturgeon - almost - implied that the Tory leader was a charlatan. And so the long, last day wore on.
Read full article FMQs: a stormy session before the summer recess