FMQSs: challenging choices for Nicola Sturgeon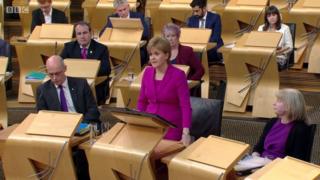 To govern, it is frequently said, is to choose. At Holyrood today, Nicola Sturgeon was presented with a succession of notably challenging choices. She coped admirably.
Firstly, Ruth Davidson raised the topic of rape. In particular, she seized upon media reports that, in some instances, crimes of rape had resulted in community sentences rather than prison.
Cue an instant dilemma for Ms Sturgeon. She stressed, repeatedly that the crime of rape should be treated "with the utmost seriousness and severity" by the judicial system.
But then, with comparable gravity, she emphasised that it was not fitting for politicians to pronounce sentences. That was rightly reserved to courts, to the judiciary - who were able to weigh all the circumstances, direct and attendant.
Ms Davidson, the Conservative leader, pursued the topic with commendable assiduity. She noted Ms Sturgeon's point that 93% of rape convictions resulted in a custodial sentence. Which meant, said Ms D, that 7% did not.
Balanced perspective
Read full article FMQSs: challenging choices for Nicola Sturgeon