Name checks and Ninja Turtles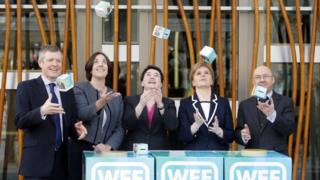 Let me bring you a few lines from the first minister's statement at Holyrood this afternoon. Here's one. "We will consider the introduction of a young Carers' Allowance…….this is a proposal that was in the Green Party manifesto. I think it has real merit…"
Here's another. "This work will be led by a new, dedicated minister for mental health - a key ask of the Liberal Democrat manifesto".
And here's a third. "We will examine a proposal in the Labour manifesto to extend the minor ailments service…."
The astute among you - and that includes all readers of these musings, ipso facto - will have spotted the gap. No place for the Conservatives.
That fits Nicola Sturgeon's thinking - which is to the effect that the Tories may yet be squeezed out in a parliament where, she argues, there is potentially "a clear progressive majority".
Name checks