Election 2015: Starting gun fired (finally)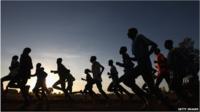 And so it begins, with a visit to a household. The Royal Household, that is - with David Cameron being received by the Queen for the final time as the Westminster Parliament is dissolved.
Households across the UK can now expect umpteen visits from enthusiastic or desperate canvassers, eager to persuade people to back a particular party in this UK General Election.
The Greens win the award for being first to launch their manifesto, promising a £10-an-hour minimum wage, the renationalisation of the railways and the devolution of powers to communities across Scotland.
They are decidedly up for this contest, at least in terms of profile and participation, while acknowledging that the First Past the Post voting system used for Westminster may not be as helpful to their cause as the proportional version deployed for Holyrood.
Ruth Davidson, she of the Tories, wins the prize for being the first to describe this contest as a "marathon, not a sprint".
Read full article Election 2015: Starting gun fired (finally)