Sturgeon's plea for patience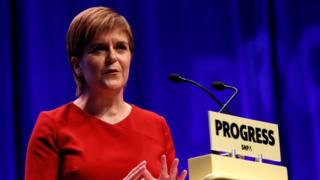 There was a moment in Nicola Sturgeon's policy-rich speech when we moved from the particular to the general. To the philosophical, indeed.
She said that the generic question which had moved centre stage was this. "What kind of country do we want to be?"
At least one wag in the audience responded: "An independent one!" Ms Sturgeon paused for a moment - although she was not remotely discomfited.
As an amendment to the friendly heckle, she suggested that fairness would be handy too.
In practice, the audience wanted to hear a version of the old protest chant. "Whaddya we want?" Their answer would be independence. And the next line, "when do we want it?"