Corbynmania Scottish-style
1 October 2015

From the section

Scotland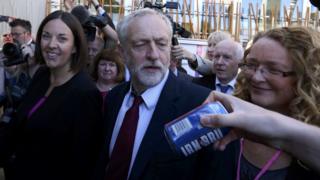 Jeremy Corbyn is well used to political crowds. During his 32 years as an MP, however, he was more used to forming such gatherings in vigorous collective protest against some perceived abuse of power.
Now, things are rather different. As earlier this week in Brighton, so it was today in Edinburgh. Arriving at Holyrood, Mr Corbyn found himself pursued by a mild-mannered mob comprising, in various proportions, the wicked media, intrigued citizens and puzzled tourists.
He looked charmed and amused, if ever so slightly puzzled by the scale of the attention. At one point, he was torn between waving to a group of passing children and gently chiding the wicked media for juvenile pursuit antics.
Today's talks may have taken place in Scotland - where the SNP are Labour's big opponents, not the Conservatives. But the issue pursuing Mr Corbyn yet again was the one that has dogged him all week: Trident.
There are three obvious reasons for this. One, Trident is based in Scotland, at Faslane on the Clyde. It is a totemic issue in Scottish politics.