FMQs: pre-election manoeuvring at Holyrood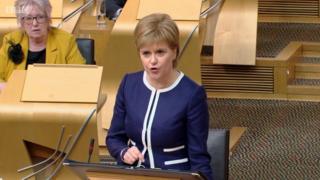 Elections tend to develop their own tone, their own leitmotif. Thus far, this UK general election is largely about strategy.
Rather than a contest over a particular policy or policies, it is about manoeuvring to gain tactical advantage.
That is perhaps implicit in the principal motivation for calling an election now - which is to give the incumbent government an opportunity to take advantage of the perceived weakness of the official opposition at Westminster.
That tactical leitmotif recurred in the chorus of contradictory comments which comprised weekly questions to the first minister at Holyrood today.
Yes, there were issues of substance. But those were generally subsumed within the arguments over political machination. Who would ally with whom? Who would disdain whom?
Read full article FMQs: pre-election manoeuvring at Holyrood