Election 2015: Shouting the odds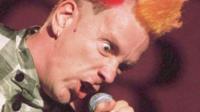 Drove in this morning, listening to "Anarchy in the UK". Splendid stuff - although not my absolute favourite from the Pistols. That rests with "Pretty Vacant". What was that? Take that person's name.
Anyway, back to Anarchy. Are we headed in the current election for a comparable destination, as some of the less temperate speculation would suggest? Or will the famously flexible UK constitution - unwritten and thus unfixed - find a way to cope with whatever the voters decide?
Because, remember, whatever does emerge will be the popular choice. Driven by a range of motivations, no doubt. Influenced by issues - such as leadership character - which the purists might prefer to exclude but which sensible people know are important in the longer term.
Now, one might care to argue that the popular verdict is distorted by the current voting system in the Commons. That may return as an issue, along with the West Lothian question.
For now, though, we should focus upon the outcome of the present contest, under the present rules, for a parliament in which, presently, all MPs have equal voting rights. The popular choice, in all its dappled glory.