Brexit: could Scotland 'do a Wallonia'?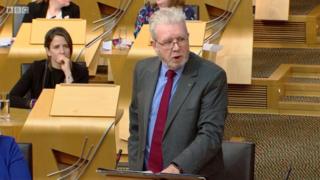 Parliamentary politics can have its comradely moments. To be honest, such occasions are most common when a member is stepping down and presents no further threat to his opponents or, more significantly, his own side.
Then backs are slapped in bonhomie - and thighs likewise, in humour. But there can be other warm interludes. Perhaps a shared drollery (not always at the expense of another Parliamentarian).
However, there are acerbic episodes too. Even slightly cruel. Such confronted Scotland's Brexit Minister, Michael Russell, at Holyrood today.
There he was, stressing his determination that Scotland's voice would be heard. His task made all the harder by the fact that his own voice was hoarse and gruff with a Brexit throat infection, no doubt inflicted upon him during the Downing Street talks earlier in the week.
On he sallied, offering the familiar Russell blend of intellect and analysis. He insisted that the Scottish government was seeking consensus.