Election 2015: Labour looks to second phase to win over sceptics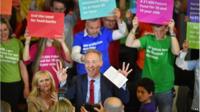 Inevitably, one hears talk that this is a notably prolonged General Election campaign. And so it is, courtesy of the fixed term parliament initiative.
Of course, we referendistas look upon such comments with a gentle, indulgent smile. Lengthy? You think this is lengthy? Where were you in 2011/12/13/14?
However, given the duration of this campaign, it has tended to fall into two sections. Depending upon your outlook, you will be relieved or glum to learn we are now into part two.
In any case, forget the length. Consider the quality.
This is, quite simply, an engrossing contest. Across the UK, where the main parties appear close - and especially in Scotland where polls suggest a mild revolution may be under way.
TV debates
Read full article Election 2015: Labour looks to second phase to win over sceptics