SNP conference: Pushing Labour out of the nest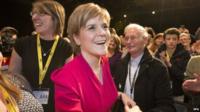 From a Labour perspective - I stress, from a Labour perspective - the latest offer from the SNP anent post-election collaboration must seem somewhat like a cuckoo coalition.
That is because - again, from a Labour perspective - the prospectus involves the SNP moving in upon territories in Scotland which Labour has, hitherto, regarded as its fiefdoms.
It involves the SNP occupying the Scottish Labour nest, pushing the reluctant incumbent aside - and then arguing for a co-operative deal with the party across Britain.
From an SNP perspective, the initiative makes perfect strategic sense. Yes, Nicola Sturgeon genuinely seeks to influence the choice of the next UK government. Politicians are in business to effect change.
However, it also works long before that post-election choice arises. It works for the election campaign itself in that the offer is designed to place pressure upon Labour now.
Read full article SNP conference: Pushing Labour out of the nest