FMQs: siding with the millionaires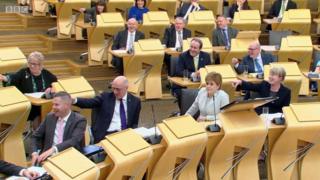 It was, in itself, rather an effective intervention. From Labour's Alex Rowley, in the style he has made his own. Dogged, determined, redolent of Fife but shorn of chutzpah.
Whenever Nicola Sturgeon made a choice on tax, he rumbled, she "sided with the millionaires, not the millions."
The response was not instant. It was slow to build, like a barbecue that refuses to light then turns incendiary (when assisted with several litres of fuel).
Firstly, Labour members applauded - but with signs of constraint as if they could sense what was coming.
Then it happened. SNP members whooped and chortled, joy unconfined, as they pointed their damnatory digits in the direction of Anas Sarwar, he who would lead the Scottish Labour Party.