MSPs show sombre solidarity at FMQs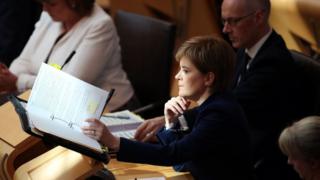 In moments of emotion, poetry frequently insinuates itself into my thoughts. I seldom discard the offer.
So it was while presenting coverage of questions to the First Minister at Holyrood today. I listened as Ruth Davidson, Kezia Dugdale and Nicola Sturgeon contrived admirably - very admirably - to sustain democratic discourse without the abrasive comment which customarily attends upon such exchanges.
I listened, too, as Patrick Harvie constructed an edifice upon the bloody foundations of the Manchester tragedy. He referred to other deaths, specifically to the lives lost on the despairing sea voyage from Libya to Italy.
Immediately, I thought of John Donne and his anthem in praise of common humanity. Writing in the 17th Century, Donne habitually talks of "man" and "mankind". However, in your thoughts, you can substitute "humanity" or what you will.
"Each man's death diminishes me