Tricky questions for Nicola Sturgeon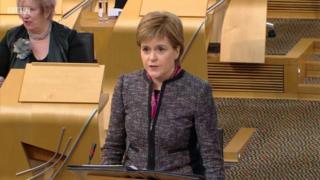 It was, for the first minister, a particularly tricky question. Her policy position meant that she was not minded to say Yes. However, it was difficult in the circumstances to say No.
Then again, the issue itself placed governmental quandaries decidedly in context. We are talking about historical allegations of abuse suffered by young football players at the hands of coaches whom they had trusted.
By contrast with the misery suffered by these youngsters, the complexities of government and political life are minor matters.
To be fair, this was entirely acknowledged in the tone adopted by our parliamentarians. They were serious, empathetic and focused.
Starting with Labour's Kezia Dugdale. There is already an inquiry under way into child abuse suffered by youngsters in care. That is scheduled to last four years.