Brexit aftermath: Drawing on the words of thinkers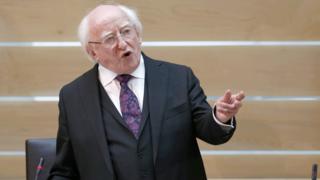 Ideas and action. In general, it is sensible if one precedes the other. For the avoidance of any doubt, I am suggesting that thought might usefully come first.
Today, in Edinburgh and Brussels, we have had copious examples of both. More precisely, we have had a range of ideas - and, just perhaps, the first stirrings of action.
At Holyrood, the Irish President Michael Higgins cited a range of thinkers - from Socrates to Foucault, not neglecting the Scottish sages Smith and Hume.
He was arguing for civil discourse, as a counter to the "thinly veiled hate and racism" which he saw emerging in the recent referendum.
Also in Edinburgh, the former Prime Minister Gordon Brown drew upon literary sources - Tennyson, Eliot - as he too urged tolerance and argued that political leaders must speedily come forward with options to reassure fretful folk.
Read full article Brexit aftermath: Drawing on the words of thinkers