GERS 2015-16: Confronting the challenges
24 August 2016

From the section

Scotland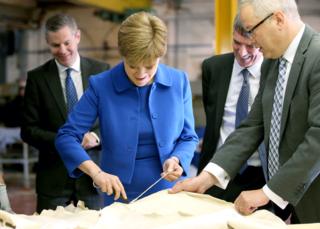 The word of the day was "challenging". Nicola Sturgeon used it, repeatedly, when discussing the state of Scotland's economy, as partially disclosed by the publication of the annual exercise known as Government Expenditure and Revenue Scotland (GERS.)
I say annual. Actually, the last version emerged in March this year. Are we now to be subject to biannual visitations?
Apparently not. The Scottish government has simply chosen to accelerate publication of the latest batch of stats in order to make their information more "timely." That is "timely" in its modern meaning of "during the Festival when folk are still striving to make summer last".
But Ms Sturgeon was not the only one to feel challenged. The Scottish Secretary, David Mundell, also detected an incipient onslaught. In his case, the focus was upon Brexit. He reckoned that was enough of a challenge in itself, without the prospect of indyref2.
The First Minister launched the new, speedier GERS in the rather splendid Muirhead leather factor in the east end of Glasgow. An image of the whiskered founder gazed down upon her, looking slightly aggrieved. Perhaps, like the wicked media, he was trying to keep up with the blizzard of figures.