Duterte in China: Philippine leader turns conciliator-in-chief?
18 October 2016

From the section

Asia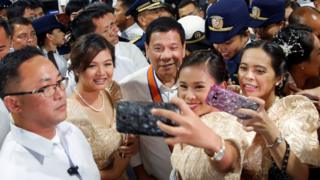 What has happened to the swashbuckling presidential candidate who six months ago said he would personally retake the Spratly Islands from China, riding out to sea on a jet ski to plant the Philippine flag on a disputed shoal? And what has happened to the foulmouthed commander-in-chief of a key US ally who only last month casually called his American counterpart a "son of a whore"?
Ahead of this week's state visit to China, President Rodrigo Duterte of the Philippines has washed out his mouth and prepared a new set of lines. He has talked of a key turning point in relations with China, promised to speak softly and praised China's "good, sound policies, internal and external".
Abandoning his jet ski threats, he told China's state news agency Xinhua: "There is no sense in going to war. There is no sense fighting over a body of water... We want to talk about friendship, we want to talk about co-operation, and most of all, we want to talk about business. War would lead us nowhere."
This shift to conciliator-in-chief is all the more striking in the context of a relationship between the two countries which seemed to have reached rock bottom only three months ago, when the Philippines won a massive legal victory against China's claims in the South China Sea, inflicting great damage in the process on China's reputation as a rising power willing to respect international law.
So why has the notoriously candid Filipino president suddenly decided that now, when it comes to China, discretion is the better part of valour?
Read full article Duterte in China: Philippine leader turns conciliator-in-chief?