Who's up, down and out at China's congress?
15 March 2017

From the section

China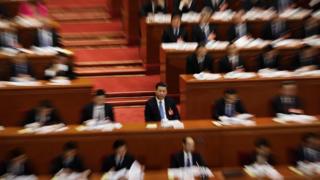 China's National People's Congress (NPC) is largely a rubber stamp for policy but it is still closely watched for indications of who is on the rise or on the way out in Beijing.
Up: The core, of course.
After attaining the title "core" last October, you might think President Xi had already reached the top. But no Chinese leader can sit easy on the throne, and having worked hard for a title, making everyone use it is a useful way to exact loyalty.
So for the first time this year, NPC work reports and meetings were replete with references to President Xi as the "leadership core of the Communist Party". In fact, President Xi got more name checks than any Chinese leader since Chairman Mao. President Xi is up.
Down: Hong Kong compatriots.
As the former British colony awaits the much less-than-democratic election of a new leader at the end of the month, it got a very pointed thumbs down from Beijing.
NPC Standing Committee Chairman Zhang Dejiang warned that Hong Kong's economy could be overtaken within two years by neighbouring Shenzhen, which as many Shenzhen residents themselves will proudly tell you, was little more than a fishing village only 30 years ago.
Up: The PR team.
Read full article Who's up, down and out at China's congress?