China week: Hunting corrupt 'foxes'
20 March 2015

From the section

China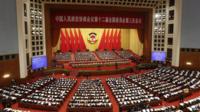 I had a dream.
Not of the Martin Luther King variety, nor exactly a nightmare. No, it was a prosaic dream about the Chinese People's Political Consultative Committee (CPPCC), the advisory body which sits alongside the National People's Congress and repeats what it is told.
In my dream, I was in a hall with a BBC colleague from the Middle East, and suddenly I was called on to speak.
I got up, rather flurried and my colleague asked what I was going to talk about. "The CPPCC," I said, at which point he burst out laughing.
In my dream, I didn't see the funny side, but then in the layered way of dreams, I noticed that not seeing the funny side was actually the problem.