Brothers again? How deep is the Xi-Putin bromance?
24 April 2015

From the section

China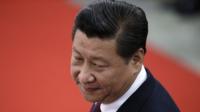 Next month, Western leaders will be conspicuously absent from President Vladimir Putin's military parade to mark the 70th anniversary of the Allied victory in the Second World War.
President Barack Obama and EU leaders are staying away from the Red Square commemoration to express their outrage at Russia's role in Ukraine.
Alongside a selection of autocrats including Kim Jong-un of North Korea and Islam Karimov of Uzbekistan, President Xi Jinping of China will be the guest of honour.
Until recently, President Putin was promoting a Eurasian vision, a union which would run "from Dublin to Vladivostok".
But as the Ukraine crisis has deepened and the year-old US-led sanctions against Russia bite, China is now the only major economy outside the sanctions regime and Russia and China are closer than at any time in half a century.
Read full article Brothers again? How deep is the Xi-Putin bromance?