China and the Church: The 'outlaw' do-it-yourself bishop
2 December 2016

From the section

China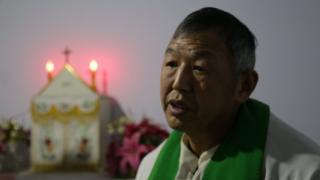 Dong Guanhua is a thorn in the side of both the Vatican and the Chinese state. Without the Pope's permission, or Beijing's, this 58-year-old labourer from a village in northern China calls himself a bishop.
China and the Vatican are believed to be close to a historic agreement governing the selection of bishops for 10 million Chinese Roman Catholics.
Such an agreement would be the first sign of rapprochement between a mighty state and a proud Church since the Communist Revolution of 1949.
The last thing either side wants at this delicate moment is a do-it-yourself bishop like Dong Guanhua getting in the way.
There are about 100 Catholic bishops in China. It's a muddled and troubled picture with some approved by Beijing, some approved by the Vatican and, informally, many now approved by both.
Outlaw
Read full article China and the Church: The 'outlaw' do-it-yourself bishop