The politics of toad kings and fairy tales in China
19 August 2016

From the section

China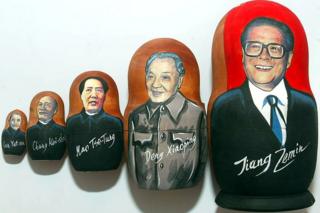 Old politicians never die in China.
They may "retire" but in the godfather realm of China's Communist Party elite, some never give up influence. And in a political culture which allows the public no direct criticism of those in power, expressing nostalgia for the past is the safest way of attacking the present. So dead or alive, these political ghosts can haunt their successors and present a potent threat.
This week's extraordinary display of so-called "toad worship" is just such a challenge. No wonder the censorship machine is working overtime to crush it.
"Toad worship" is the cult of former President Jiang Zemin. The worshippers are often young people who weren't even born when Mr Jiang became China's leader in 1989.
Their sharing of his quotes, photos and videos started as mockery. His heavy black-rimmed glasses, huge mouth and high-waisted trousers, make him a gratifyingly amphibian figure of fun.
Read full article The politics of toad kings and fairy tales in China