Collision course? Rise of China a stress for the US
26 September 2015

From the section

China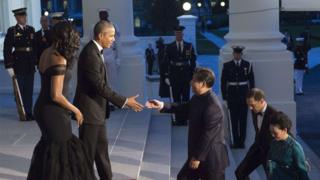 "The United States welcomes the rise of a China that is peaceful, stable, prosperous and a responsible player in global affairs."
So said President Obama on Friday, standing alongside President Xi at the White House.
This line didn't make the news. After all, Mr Obama repeats it whenever he meets his Chinese counterpart. But the qualified American welcome to the rise of China is still the principle which underpins the most important bilateral relationship in the world, and it is the principle which has guided American policy on China through eight presidencies and four decades.
Never before in history has a great power risen so fast, and in so many different spheres, as the China we see today. In three short decades, the backwards farming nation of both presidents' childhoods has become the world's largest manufacturer and largest trader. It may overtake the US during President Xi's time in office to become the world's largest economy.
China's trade with the US alone has risen from $2bn in 1979, when relations were established, to nearly $600bn last year.
Read full article Collision course? Rise of China a stress for the US