A plea for 'decency' in shaken Silicon Valley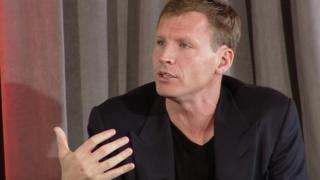 We may look back and see the events of this week, where multiple scandals at Uber saw Travis Kalanick removed as chief executive, as the beginning of a culture change across Silicon Valley as a whole.
On Friday, we saw signs of what shape such a shift may take.
In a post on the platform he runs, LinkedIn co-founder Reid Hoffman suggested the technology industry - and the complex spider's web of relationships within it - needs to agree on what he's called a Decency Pledge, a code of conduct most would consider to just be responsible, professional behaviour, but in the technology business apparently needs to be hammered home.
Mr Hoffman's post - which I'll go into more detail about in a moment - followed a damning report published on Thursday by The Information - a subscription-only tech news service.
It shared details alleging several instances of sexual harassment by a prominent venture capitalist, Justin Caldbeck, who by Friday afternoon had taken a leave of absence from Binary Capital, where he is/was a managing partner.
Read full article A plea for 'decency' in shaken Silicon Valley