Owen Smith on Corbyn, leadership, devolution and Brexit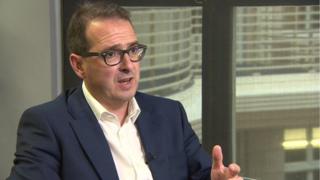 I've been talking to Owen Smith about his challenge for the Labour leadership. Here's a quick summary.
He blamed Jeremy Corbyn for the party's performance in May's assembly elections, said voters backed Brexit because they didn't feel the Labour Party stood up for them, denied that he was anti-devolution and insisted having a prime minister from outside England could help keep the UK together.
I began by asking how he would recover Labour's lost support in the assembly elections, when Labour's share of the vote dipped significantly.
Owen Smith: "Well that dip is largely, I'm afraid to say, because of Jeremy Corbyn. Because we've not been speaking powerfully for Labour in Westminster. Lots of people, you will know, have lost faith and lost hope in Labour. We've lost credibility, we've lost respect in many of our communities, communities that have been traditional Labour-voting areas.
"For us to almost lose Blaenau Gwent, for us to lose the Rhondda, these were hammer blows to the Labour Party and that's something Jeremy Corbyn needed to respond to but he's been poor at taking Labour's case to the Tories in Westminster and he's not been successful in going beyond slogans. So he's talked about being anti-austerity; I agree with him about that. We want a radical Labour government that believes in investing in our communities but it's not enough to just have slogans, you've got to have solutions, and you've got to persuade people that Labour can be a credible government in waiting."
'Brexit'
Read full article Owen Smith on Corbyn, leadership, devolution and Brexit