Minister promises Welsh Brexit plan 'next week'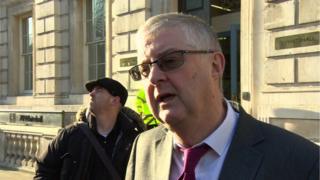 Did the dog eat the Welsh Government's homework?
The snappily-acronymed JMC (EN) met in the Cabinet Office for almost two hours on Thursday morning; on the agenda, papers from the Scottish government and Northern Ireland executive on Brexit.
The Scottish paper sets out its demands for Scotland to stay in the single market and for more devolution. The Scottish government's Minister for UK Negotiations on Scotland's Place in Europe, Mike Russell, said as he entered the Cabinet Office: "I'm hopeful that we will take forward the options in the paper that we've submitted, in particular the options of Scotland remaining a member of the single market, of increasing devolution.
"Those are still realistic options, they've been well supported across the board."
The paper from Northern Ireland sets out its view on what happens to the border between it and the EU after Brexit.
'Substantive'
Read full article Minister promises Welsh Brexit plan 'next week'