Politician survives kitchen encounter with cam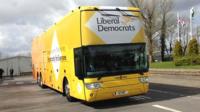 It's been compared to a box of cream crackers on wheels and those travelling inside say it's like a giant yellow cocoon.
Nick Clegg's battlebus was hard to miss this afternoon when it arrived - in the middle of the road, naturally - at a Panasonic factory in Cardiff.
The deputy prime minister was given a factory tour where he met some apprentices, answered questions from workers - and made a pancake.
The end product looked good enough to eat although Mr Clegg did look rather uncomfortable in the kitchen - even with James Landale nowhere in sight.
The Lib Dems had chosen Panasonic as an example of a company that has a good record on apprentices and in the European Union.
Read full article Politician survives kitchen encounter with cam