New shadow arrives amid Wales Office memories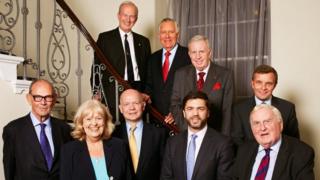 "Full and interesting advice surgery this morning in Haverfordwest," reports the local MP, Stephen Crabb. "A variety of issues raised - arts funding, farming, social care, and many others. Nobody mentioned Europe, Brexit or Article 50."
The priorities of the good people of Pembrokeshire may serve as a reality check to those of us who have reported little other than Europe, Brexit or Article 50 this past fortnight (although constituency surgeries may usually feature more personal concerns).
The European Union (Notice of Withdrawal) Bill - all 137 words of it - has now cleared the House of Commons and enters the House of Lords unamended. What did we learn during its Commons stages?
'Centre stage'
Tribal loyalties sometimes mean Labour MPs don't support Plaid Cymru amendments even when they agree with them but 267 MPs backed a Plaid amendment to require the UK government to update the Welsh Assembly on the impact of Brexit. That may be a record for any Plaid amendment (you'll thank me if it comes up in a pub quiz) but the government won the vote, and every other division, comfortably.
The Commons stages were also notable for the return to centre stage of David Jones, now arguably the most powerful Welsh MP two and a half years after his sacking as secretary of state for Wales.
Read full article New shadow arrives amid Wales Office memories