Corbyn praises Welsh health and education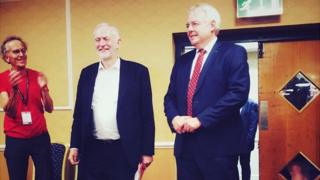 From the warmth of the welcome, you'd never know he'd just lost a general election.
But when Carwyn Jones introduced Jeremy Corbyn to delegates at the party's 'Welsh Night' fringe as "the next prime minister" his party's MPs felt able to cheer the prospect with a straight face.
"We didn't sadly quite win the election," he admitted. "But this government is so powerful and so confident in two opposition days just before parliament ended for this conference recess they couldn't even bring themselves to vote against a proposal to lift the NHS pay cap and halt the rise in student fees. They couldn't even defend what is supposed to be flagship policies of a Tory government."
It's true that the NHS pay cap remains in Wales, where Labour are in power, and tuition fees are rising in Wales. Jeremy Corbyn defended the refusal to lift the pay cap in an interview with ITV Wales.
Carwyn Jones told the audience on Sunday night that his government had lived under "the oppression of austerity" for seven years, dealing with a declining budget.
'United'