Corbyn: England - and Labour - can learn from Wales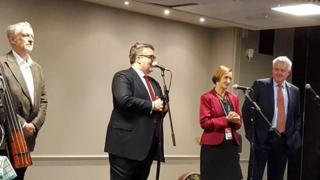 In 32 years as an MP, "Welsh Night" at the Labour conference has England has never intruded on Jeremy Corbyn's schedule.
Until last night. The Islington North MP was the "star turn" (apart from The Hennessys) at the traditional reception for Welsh delegates here in Brighton.
Mr Corbyn got a very warm reception from delegates, who liked what he had to say.
"England has a lot to learn from Wales," he said, praising the way the Welsh government had rejected the internal market in the NHS. "The party has a lot to learn from Wales."
I heard a similar message when I interviewed the new leader on the eve of the conference. We met in his new office at Westminster, which has the air of a work-in-progress - his computer had a hard drive but no monitor and the shelves featured more "congratulations" cards from north London neighbours than books.
Read full article Corbyn: England - and Labour - can learn from Wales