How surprised should we be by the Welsh Brexit vote?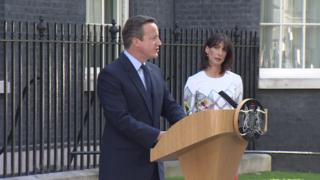 It was shortly before 02:00 BST (I listen so you don't have to) when Stephen Crabb told radio listeners that he would not be surprised if Wales voted for Brexit.
"Because I think the politics of Wales have changed quite profoundly in recent years and I think the picture you're going to see in the south Wales valleys will be similar to the results we've seen in the north east of England and some of these old industrial working-class areas which have shifted very markedly towards 'out'.
"And this will be one of the, I think, the stories of this referendum campaign - the way the spotlight has been shown on some of these quite marked social divisions and it poses a challenge not only to use as a Conservative government but to all the Westminster parties who increasingly look and sound the same."
It poses a challenge to parties in Wales too. Wales has 40 MPs; only five backed Brexit. Every single Welsh Labour MP backed remain. Many Labour supporters who voted for the party only last month in the Welsh Assembly elections clearly voted against the party line (if they knew what it was) on Thursday.
Some MPs are less surprised than others. One said he had been shouted at for the first time by a constituent during the referendum campaign. Others reported back on a virulent anti-politics mood and "our broken politics". One Labour source questioned the timing of Wednesday's announcement that the Assembly is to be asked to re-brand itself a Welsh parliament.
Read full article How surprised should we be by the Welsh Brexit vote?