Welsh Labour correct Corbyn after schools gaffe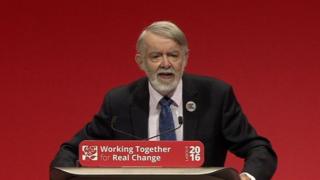 The Labour conference is over. Jeremy Corbyn told delegates to go back to their constituencies to prepare for a snap election, if not for government.
The leader has had a mixed week. The failure of the Owen Smith challenge left Mr Corbyn's leadership stronger than at the end of the summer than at the beginning. The word 'mandate' featured in many of his speeches and interviews this week.
But he and his allies lost a battle over control of the party's national executive, with the Welsh and Scottish leaders able to appoint a member each to the ruling body. The row made the front page lead in the Morning Star.
'Immigration'
The uneasy truce since the leadership result was declared has been threatened by Mr Corbyn's comments about immigration.
Shadow Home Secretary Andy Burnham told delegates: "This conference must fully face up to this fact: millions of lifelong Labour supporters voted to leave the EU and - let's be honest - voted for change on immigration.
Read full article Welsh Labour correct Corbyn after schools gaffe