Hezza the Welsh mongrel 'humiliated' by Nye Bevan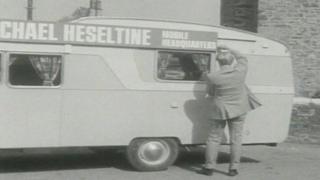 Some more summer listening for you in the gap between updates in the Labour leadership contest. Michael Heseltine has been sharing his memories of growing up in south Wales for a Radio 4 programme.
Swansea-born Lord Heseltine fought his first (doomed) election campaign in Gower in the 1959 general election, when he left national service with the Welsh Guards to stand in the Conservative cause.
He recalls an encounter on the campaign trail with Aneurin Bevan: "It was certainly a wonderful moment for me to be so publicly humiliated by so great a figure."
'Englishman'
He explains: "I did the thing that all aspiring politicians do. No-one came to my meetings, there were no Conservatives in any numbers in the the Gower peninsula so I tried to get into a joint meeting with Ifor Davies, the Labour candidate and I went to any lengths - I challenged him to meet me, accused him of being a coward and all that sort of thing.
"Anyway he very rightly had nothing to do with me but then I saw this advertisement in the South Wales Evening Post. 'The Labour Party, the Rt Hon Aneurin Bevan will address the party in the Elysium Cinema on October 10, 1959'. So I thought 'well, this is too good to be true' and I, in the rain, in the dark, thousands of us descended on the Elysium cinema.
Read full article Hezza the Welsh mongrel 'humiliated' by Nye Bevan