Women's voices 'rarely heard' in Brexit debate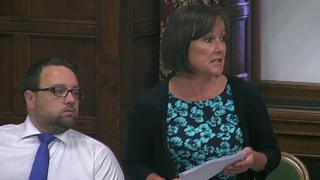 I know what you're thinking. But no, I'm not one of those BBC staffers on £150,000-plus a year.
But before you drown me with your unwarranted sympathy, let's talk about the last Westminster debate about Wales before heavily-fatigued MPs depart for their long summer recess.
Cardiff Central Labour MP Jo Stevens led a debate on the Queen's Speech and its implications for Wales. The speech, setting out the government's legislative plans for the next two years, was dominated by Brexit, not just the European Union (Withdrawal) Bill aka Repeal Bill but by seven other proposed new laws linked to leaving the European Union.
'Dog's dinner'
As you might expect from a Labour MP, Ms Stevens didn't find much in the speech to commend it: "After the dog's dinner of the Wales Act 2017 in the last Parliament, there has been no progress on tidying up and providing much-needed clarity on the devolution settlement, nothing to offer on rail electrification or anything concrete on scrapping the Severn bridge tolls and no Swansea bay tidal lagoon announcement, despite the government sitting on the favourable Hendry report since January."
What caught my eye were her comments on last year's EU referendum campaign - "the worst I have ever been involved in" and not just because of some of the nastiness about immigration and the murder of Jo Cox.
Read full article Women's voices 'rarely heard' in Brexit debate