Lords ponder Welsh powers, air taxes and draft laws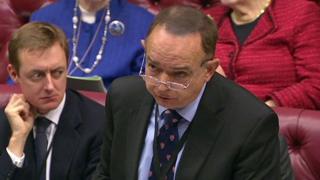 Most politicians at Westminster are currently focused on one big issue - how to respond to the threat of the so-called Islamic State. But the House of Lords managed to squeeze in a short debate on the future of devolution.
The draft Wales Bill has had something of a kicking during its pre-legislative scrutiny phase so far and their lordships appeared not much more enthusiastic about the proposed law.
Former Plaid Cymru leader Lord Wigley kicked things off by citing what he called the "immense disappointment" felt by Sir Paul Silk (of Silk commission fame) that the Bill fails to deliver the "unanimous cross-party agreement" of that commission.
In particular, Lord Wigley complained that its recommendations on the devolution of policing and legislation on resolving disputes between the UK and Welsh governments had not been delivered. (He didn't complain that the Silk recommendation that a referendum be held before income tax powers are devolved has been ditched).
Wales Office Minister Lord Bourne of Aberystwyth, a former Silk commissioner, said Silk had produced 61 main recommendations, with 100 discrete proposals and more than 75% of them were in the draft Wales Bill.
Read full article Lords ponder Welsh powers, air taxes and draft laws