Theresa May's Brexit Welsh powers pledge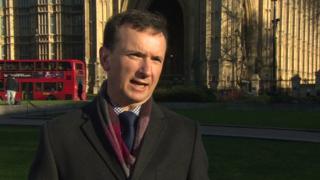 "The economic argument trumps everything else," said the secretary of state. "At the end of the day this is down to the economy, jobs, jobs, jobs."
There were, he said, 100,000 jobs in Wales directly linked to our place in Europe. "Business leaders tell me that they rely on our links with a market of 500 million people - that's a vast trading bloc that takes more than 40 per cent of the goods we export."
Indeed, the Conservative manifesto for the 2015 general election declared: "We benefit from the single market".
That was then, and this is Alun Cairns now: "Maintaining membership of the single market is effectively remaining part of the European Union by another name. Instead, we seek the greatest possible access to the single market through a new comprehensive, bold and ambitious free trade agreement."
'Recession'
The referendum changed everything and ministers who warned before June 23 last year that Brexit risked "the very real prospect of recession" are now making optimistic noises about the economic prospects of "global Britain".