Let them eat steak: Brexit, planes and automobiles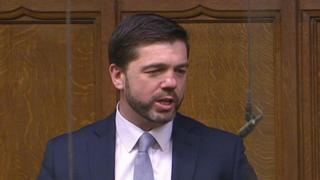 It was more like Brexit Questions than Welsh Questions, with 11 of the 14 questions tabled focused on Britain leaving the EU.
We know that Theresa May's government won't provide a running commentary on the Brexit process so what did we learn today?
With the government looking at protecting certain industries in Brexit negotiations, former Welsh Secretary Stephen Crabb highlighted the importance of Europe to the automotive and aerospace industries in Wales.
He asked Alun Cairns: "Given that Brexit probably won't mean retaining full membership of the single market will you nevertheless commit to fighting and doing everything you possibly can to retain full single market-style benefits for those critically important sectors in the Welsh economy?"
Mr Cairns told him the UK had landed some important investments. "We want to retain the most open market arrangements and I think the confidence shown by Nissan demonstrates that they understand the priority we are placing on that."
Read full article Let them eat steak: Brexit, planes and automobiles