Politicians look back on 18 and a bit years of change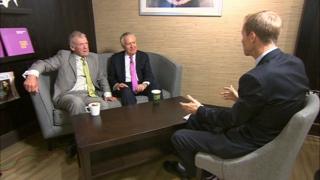 It's a big year for 20th anniversaries. In May it was 20 years since Tony Blair swept to power. And 20 years of continuous Labour rule in Wales.
And, as you may have noticed, it was 20 years ago this week that Wales voted, by a narrow margin, for devolution. The actual powers weren't transferred until July 1999 but no-one celebrates an "18 years and a bit" anniversary so it has offered a timely opportunity for the media to take stock.
Huw Edwards ends his documentary by concluding that the fragility of the original result has become "something far more solid". He adds: "The existence of a National Assembly, the Welsh Government, regardless of the debate about policy, is widely accepted. The very idea of devolution - once so divisive and controversial - is hardly questioned."
Scrutiny
And a lot of the coverage of the 20th anniversary has indeed been focused on what has been delivered and how Wales has changed since 1997 rather than testing the arguments - or the numbers - put forward during the referendum campaign.
Politicians (and statisticians) are still arguing over the claims, counter-claims and sums from last year's European referendum but there has been relatively little scrutiny of the arguments made during the 1997 vote.
Read full article Politicians look back on 18 and a bit years of change