Ripples spread from discovery of gravitational waves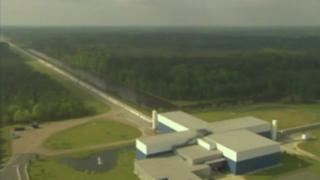 Three months ago scientists announced they had discovered evidence for the existence of gravitational waves. Ripples in the very fabric of our reality that nicely proved something Einstein suggested a century ago and also gave us an entirely new way to study the universe.
These big physics discoveries always involve huge teams of researchers from right across the planet, but the University of Birmingham has a key role, both in building the detector itself and in analysing the data it produces.
So now the scientific dust has settled I spent some time with the researchers at the university to get the behind-the-scenes story of the discovery and to ask them what they plan to do next.
The LIGO experiment
The Laser Interferometer Gravitational-Wave Observatory or (LIGO for short) is based in America. It's actually two massive experiments, one in Hanford, Washington and another in Livingston in Louisiana. You need a lot of space for this experiment as you'll be bouncing lasers up and down pipes four kilometres long. And you also need to put the experiment as far away from noise and general vibration as possible. Gravitational waves are so small and so hard to detect that the vibration of waves on a distant shore is enough to mess up the measurements. So LIGO was built in pretty remote areas.
LIGO works using a very special laser beam which you split it in two and send each bit down two four-kilometre pipes which are at right angles to each other. At the end of each pipe is a mirror which bounces the laser straight back down the pipe. The two beams are then recombined and should in theory cancel each other out.
Read full article Ripples spread from discovery of gravitational waves