Politicians and percentages - grappling with fundamental mathematical ideas
30 April 2015

From the section

England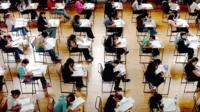 People are not very good at mathematics, and in this country we're worse than most.
It's not just simple stuff like adding up, it's the way we grapple with some very fundamental mathematical ideas. Concepts like percentages.
Now percentages are very useful.
If your boss offered you a 25% pay rise you'd grasp the good news quicker than if she just mentioned a number.
But it's this utility that is often their downfall, and if there's one thing I've learned on BBC Reality Check during the election, it's politicians and also journalists who are the worst offenders.
Is it true?
Read full article Politicians and percentages - grappling with fundamental mathematical ideas