Reality Check: 'Health tourism' under spotlight
24 April 2015

From the section

England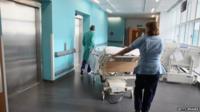 One of my friends is moving to a new job in another European country.
He has a repeat prescription for medication and he went to see his doctor to ask for some extra pills to tide him over while he sorted things out in his new job.
the doctor said "no" and cut his supply off at the moment he left these shores.
So that's one "health tourist" who won't be getting more than he's entitled to from the NHS. Although as someone in a good job, who's paid plenty of tax in his time, he was pretty grumpy about all this.
But overall what sort of problem is "health tourism" - people getting pills, potions and treatments they're not entitled to - in the NHS?
Defrauding the NHS
Read full article Reality Check: 'Health tourism' under spotlight