Invading hornet bad news for struggling UK honey bees
25 August 2017

From the section

England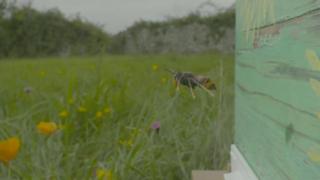 The Asian hornet has been slowly moving closer to the UK for a while now.
Already a problem in France it likes nothing more than eating European honey bees. It's arrival here would be a problem for struggling bee populations.
Like many invasive species the hornet has seen plenty of alarming and frankly slightly over the top coverage in the media.
But they do pose a really serious threat to our honeybees. The hornets feed by hovering in front of bee hives. They intercept returning bees, bite their heads off and then eat the rest, a behaviour called "hawking".
Exact figures are hard to come by but there are estimates are a single hornet can eat fifty bees in a day.
Read full article Invading hornet bad news for struggling UK honey bees