Illegal elvers worth more than caviar on black market
12 April 2017

From the section

England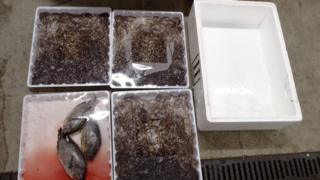 This is peak elver fishing season on the River Severn but there are worries about illegal poaching and smuggling of these baby eels to the Far East.
So I spent a night out on the banks of the river to see how the problem is being tackled.
Elvers are amazing creatures. Small, transparent worm-like fish that arrive in the Severn from the Sargasso Sea in their millions. They work their way upstream and after five to 20 years living in the Severn they head back out to sea to breed.
Right now, it's full moon which means big tides and a huge bore, a surge wave, coming up the Severn at night.
The elvers are carried along and also swim with the bore, and at weirs and other obstacles they are lifted over the obstruction into the next part of the river.
Spooky listening
Read full article Illegal elvers worth more than caviar on black market