Plastic oceans: What do we know?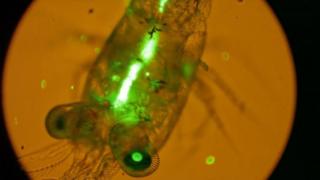 As England prepares to introduce a charge for plastic bags - long after many other countries - it's a good moment to catch up on the latest research into plastic in the oceans.
Images of seals, turtles and seabirds trapped in plastic rings, ropes and sheeting always have the power to shock.
And on a visit to Midway Atoll in the Pacific Ocean, I saw for myself how the island's magnificent albatrosses were eating plastic waste that often proved fatal to them.
The tropical beaches were littered with the bodies of albatross chicks whose bellies were filled with everything from old toothbrushes to cigarette lighters to fragments of plastic toys.
One particularly moving sight was a baby albatross chick with a small plastic hook jammed in its beak - its parents would have mistaken the object for food.