Watching Tim Peake return to Earth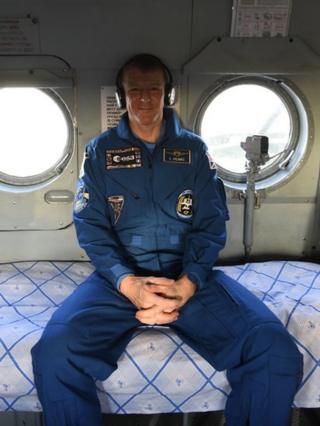 Witnessing Tim Peake's descent through the clouds towards the arid emptiness of the Kazakh steppe must rank as one of the highlights of any reporter's career.
At first, we had no idea if we were in the right place but then the parachute appeared as a miniature white blob in the sky as our helicopter circled the landing zone - one of a fleet involved in recovering the spacecraft.
Gradually its white and orange stripes became more distinct, and just visible beneath it was the dark shape of the tiny capsule carrying Tim and his two colleagues.
A column of dust in the distance signalled the rush of the ground vehicles speeding over the bumpy terrain in a desperate hurry to provide help as soon as possible.
By a happy coincidence of winds and flight paths, we had an airborne ringside seat as the near-black craft drifted closer and closer towards the ground.