Our changing attitudes to chimpanzees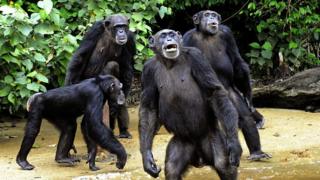 The BBC's revelations about the illegal trade in baby chimpanzees triggered an outpouring of emotion on social media about the cruelty suffered by these adorable animals
And this raises questions about how our attitudes to our closest relations in the natural world have changed.
Some people who contacted me volunteered to adopt Nemley Jr, the infant rescued from traffickers after the BBC investigation.
Many expressed outrage at the wealthy buyers in China, South East Asia and the Gulf states whose demand encourages poachers to go on raids in the jungles.
There has also been a new burst of fury at celebrities posing with chimps.