Global warming and the race for the White House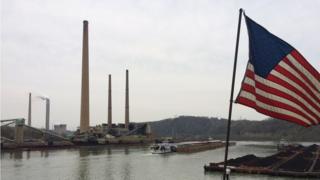 Two starkly different visions of global warming are offered by Hillary Clinton and Donald Trump in their race for the White House.
The Democratic Party contender says she believes in the science of climate change and plans to see America become a "clean energy superpower" - installing half-a-billion solar panels by the end of her first term.
By contrast, the Republican candidate talks down the threat of rising temperatures and says his priority is to cut the costs of energy for manufacturers and to revive the coal industry.
Hillary Clinton is a strong supporter of the Paris Agreement on climate change. Donald Trump wants to renegotiate it or pull America out of it.
Because the US has the world's largest economy, and is the second-biggest emitter of greenhouse gases after China, the outcome of this struggle will reverberate internationally. If the US leaves the Paris Agreement, the painfully-negotiated deal could unravel.
Read full article Global warming and the race for the White House