Open Sesame: Science centre unveiled in Jordan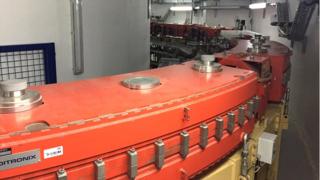 In a rare show of unity in the Middle East, an advanced research centre to be shared by the troubled region has opened in Jordan.
Despite political tensions and rows, countries usually hostile to each other are jointly supporting the venture.
Its name is Sesame - Synchrotron-light for Experimental Science and Applications in the Middle East.
The facility hosts a synchrotron, a particle accelerator that acts as a powerful microscope.
Researchers including Iranians, Israelis and Palestinians - who would never normally meet - will now use the machine together.
Read full article Open Sesame: Science centre unveiled in Jordan