Being comfortable in robotics' uncanny valley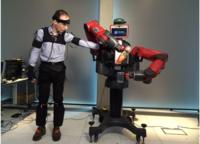 The robot's eyes flick towards me, and its head turns, eyebrows raised, lips forming a smile, as if we are about to meet and start a conversation.
In the Edinburgh Centre for Robotics, I am a little disconcerted by my first encounter with an intelligent machine.
The robot's head is attached to a box rather than a body and looks more like something from a mannequin than a human.
The rational part of me knows all too well that this is simply a bundle of plastic and silicon.
"Hello, do you want to play a game?" it asks.
Read full article Being comfortable in robotics' uncanny valley