Details of East Anglian devolution revealed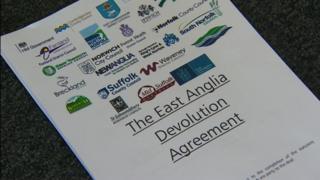 We're starting to get an idea about what East Anglian devolution will look like.
The devolution agreement, published by the treasury and signed by 22 of the 23 council leaders in Norfolk, Suffolk and Cambridgeshire, outlines how the new combined authority will work and the powers of the new directly elected mayor.
The agreement stresses that there is no intention for the new authority to take existing powers from local authorities.
County, district and borough councils will continue to exist. The combined authority and its mayor will be responsible for the powers which are being devolved from Whitehall.
These are transport, strategic planning and skills training. There is also a hint that at some stage health and social care may be added to the list.
Read full article Details of East Anglian devolution revealed