Why Cage director was guilty of withholding password
25 September 2017

From the section

UK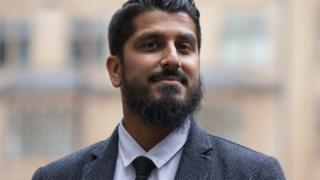 One of the directors of the controversial campaign group Cage has been found guilty of wilfully obstructing police by refusing to hand over his phone Pin number and laptop password after being stopped at Heathrow Airport last year.
Muhammad Rabbani, 36, told a one-day trial that he had refused to let counter-terrorism officers look at information on his devices because he was carrying sensitive information from an alleged victim of torture by US agencies.
The officers who stopped Rabbani last November asked to see what was on his phone and laptop under a wide-ranging power used at ports to identify people involved in terrorism.
But Rabbani said that handing over the Pin code and password were like handing over the keys to his house.
He and his legal advisers have already said that they will appeal against the conviction because they not only believe he has been wrongly convicted, but because, in their view, the stop and search law behind the case is flawed.
Why is the law controversial ?
Read full article Why Cage director was guilty of withholding password