The imam killed because he wasn't 'Muslim enough'
16 September 2016

From the section

UK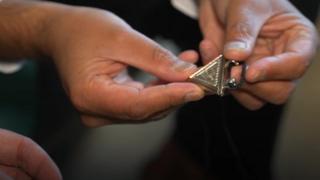 On Friday a jury at Manchester Crown Court found Mohammed Syeedy guilty of murdering a 71-year-old imam - because he wasn't Muslim enough.
This is not just a crime that shocked the Muslim community in Rochdale where Jalal Uddin was bludgeoned to death.
It's also the second in less than a year in which one Muslim has killed another for not being Muslim enough - a form of sectarianism that we haven't really noticed in the UK.
Syeedy drove the getaway car for his alleged accomplice, Mohammed Kadir, who the trial heard had wielded the hammer in a children's park. Mr Kadir fled the UK to Turkey - and is now probably in Syria.
Why Syeedy didn't follow is a mystery - he'd recently renewed his passport and both were shown in court to be supporters of the self-styled Islamic State group.
Read full article The imam killed because he wasn't 'Muslim enough'