London attack: What new anti-terror powers could be used?
6 June 2017

From the section

UK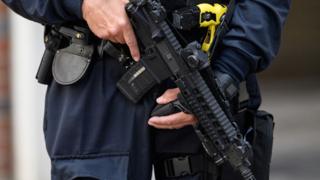 Recent attacks in London and Manchester have sparked calls for something to be done about the UK's counter-terrorism laws. But what could an incoming government practically achieve by creating new powers to pursue and lock up suspects?
What is Theresa May proposing ?
The PM said she would make it easier to deport foreign terror suspects and "restrict the freedom and movements" of those that present a threat.
"And I mean doing more to restrict the freedom and movements of terrorist suspects when we have enough evidence to know they are a threat, but not enough evidence to prosecute them in full in court," she said.
"And if our human rights laws get in the way of doing it, we will change the law so we can do it."
This looks very much like an attempt to return the current TPim restrictions - a form of house arrest - closer to what they used to be when they were called control orders. Those orders were created by Labour in 2004 and they included long curfews and restrictions on who people could meet and communicate with. They were abolished by the Conservative-Liberal Democrat coalition and replaced by less restrictive TPims in 2011.
Read full article London attack: What new anti-terror powers could be used?