Oil's climbing back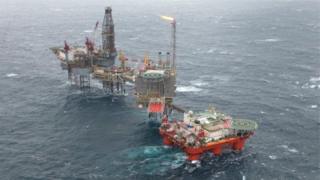 The cocktail of dirty sticky stuff extracted from the Brent and other oil fields off Aberdeen is having a lot more impact on the world economy than it is on the Scottish election campaign.
The softening of Scottish economic performance - much of it driven by the weakness in the oil and sector, though probably not all - has barely registered in the campaign.
That may be because the worst appears to be over - or the best, if you're an oil consumer, and most of us are.
The price per barrel of global benchmark Brent Crude ended April just above $47. Since dipping briefly below $30 in January, it has risen by nearly two-thirds.
That sounds a lot. And it is. But it's worth remembering that the price is down by 30% on this time last year, and by 60% on its most recent peak, in June 2014.
Regional rivalry