Go compare: Scotland's place in the world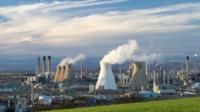 Ronald Reagan got into the White House with the question: "Are you better off than you were four years ago?". So 35 years later, are you better off than at the last election?
Part of the answer is the highly contested issue of real spending power. Tories can tell a positive story using real household net income (including benefit and tax changes as well as pay), while Labour prefers to tell a negative story about squeezed spending power, using real earnings.
But how are we doing on the international league table? On the day that international affairs intruded into the election campaign at leadership level, maybe we should look at how Scotland's getting on in the world.
The findings might even have a bearing on any further prospect of another independence referendum, because such numbers were heavily used to emphasise that Scotland's economy could be treated at least as a going concern, or a potentially very successful one.
Those number-crunchers at Fiscal Affairs Scotland (FAS) have been looking at the latest revisions to our GDP, or gross domestic product. These are big revisions, bringing Scotland into line with the UK, which last autumn came into line with the rest of Europe.