More than merely paper losses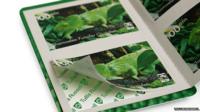 Scotland used to be quite good at making paper. It fed a healthy demand, fuelled by all that world-beating literacy and education.
The industry is thought to have begun in Dalry, Edinburgh, as early as 1590. As a sizeable market for paper in government, publishing, commerce, the university and the law courts, the capital continued to dominate, with dozens of mills along the Water of Leith.
By the 1830s, there were more than 70 papermaking plants, a fifth of all the plants in Britain, processing cotton rags. One of them was Tullis Russell, founded in 1809 at Markinch in Fife.
As recently as 1959, there were 17,000 employed in the industry in Scotland, when MPs were debating whether to reduce tariffs on imports from Sweden (an interesting read as a contrast to today's debates about European markets).
Biomass plant
As a big user of energy, Scottish paper mills, 55 years ago, consumed 800,000 tonnes of coal each year, so Markinch was happily located at the heart of the Fife coalfield.