Strong builders' tea while Scots economy cools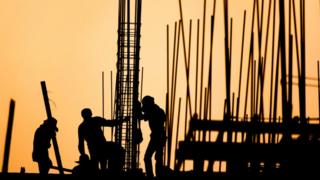 Something is mis-firing in the Scottish economy. The cause is partly business confidence and poor productivity. Problems with the oil and gas sector are clearly not helping. And partly it's the difficulties facing exporters into the eurozone.
Yes, the latest figures on Gross Domestic Product look disappointing, at 0.1% growth between the first and second quarter of the year. If it weren't for construction activity, the Scottish economy would have contracted between April and June.
Another quarter like that, and it would be a recession. The chief representative of small business warns that a sniffle could turn into something more sinister.
Construction has been the star performer for five quarters, growing much faster than civil engineering across UK as a whole.
In the year to June, it grew 18.5%, while across the UK, it was only 4%. Much of that is catch-up from the deep slump it faced with the last recession. It hit a trough in 2012, and since then has grown by 35%, according to Scottish government statisticians.
Read full article Strong builders' tea while Scots economy cools