Heated politics of Longannet going cold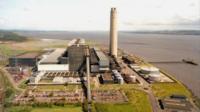 Longannet power station is a bit of a monster. At 2,400 megawatts capacity, the huge plant on the banks of the Forth can keep the lights on for most of Scotland.
Recently, it's been sweating its 42-year-old sinews to do so, particularly when the wind drops and all those turbines stop supplying the power grid.
The Fife monster's days were numbered, however. While burning all that coal, it was facing a steeply-rising bill for emissions. And once it has burned through its licence conditions, it was due to close in 2020. That was the intention of government policy, and it has had cross-party support.
However, that date is almost certain to be brought forward to March 2016, following Longannet's failure to win the National Grid auction for back-up supply to ensure voltage remains steady.
With closure, 270 jobs will go, plus those in the supply chain, including freight operations form Hunterston. Scotland's struggling coal industry will struggle even more.