The widow, the judge and the frozen embryos
28 September 2016

From the section

Health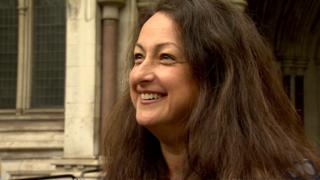 Samantha Jefferies walked out of court wearing a broad smile and with the certainty that she can now have a final round of fertility treatment using embryos created with her late husband.
The court ruling means the embryos - created in 2013 - can be stored until 2023.
It will be 10 years since they were created - the maximum period allowed under the law.
The case arose after her husband Clive - who served in the Falklands War - died suddenly and unexpectedly in 2014.
He had signed forms saying that any embryos created could be used after his death, and gave permission for them to be stored for 10 years.
NHS funding
Read full article The widow, the judge and the frozen embryos