Election 2015: Voters' trust remains elusive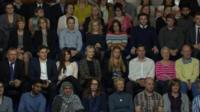 Rarely has such political energy been expended to such little effect. Or so it seems.
Five and a half weeks of sound bites and fury have signified little.
Pollsters and the political cognoscenti are bemused as they peruse 76 campaign polls and shake their heads over graphs that are stubbornly flat-lining.
All anyone can say is that it is too close to call. Neither major party has nailed an advantage.
The widely-judged star of the campaign - Nicola Sturgeon - was unforeseen.
Read full article Election 2015: Voters' trust remains elusive