Syria stokes Europe's fears of being sidelined on world stage
8 October 2015

From the section

Europe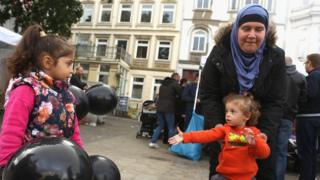 The conflict in Syria is leaving its mark on the streets of Europe. Tens of thousands of the refugees arriving in Europe's capitals are fleeing the Syrian conflict - yet Europe does not have an agreed policy for dealing with the crisis and risks becoming a bystander.
It is a charge made by the leader of the Liberal group in the European Parliament, Guy Verhofstadt. "We need a common European strategy to end the war in Syria. We're being pushed out," he says.
Other politicians too have noted Europe's impotence. There is a crisis that challenges some of the core principles of the EU, like freedom of movement, yet there is no common position on how to defeat so-called Islamic State (IS) and remove President Assad. For politicians like Verhofstadt there is an absence of "political will".
In part the reluctance to act is a consequence of the failed interventions in Iraq, Afghanistan and, to a certain extent, in Libya.
But over time, drift and inaction has handed the advantage to more extreme groups in Syria.
Read full article Syria stokes Europe's fears of being sidelined on world stage