Trump faithful undeterred by polls and scandals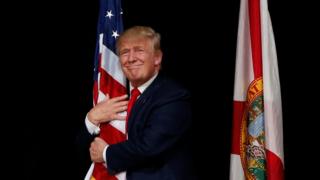 It is the final stretch of a brash, improbable campaign. Donald Trump is rolling through Florida's campaign stops; places like St Augustine, Tampa, Sanford, Tallahassee. It is a state he must win if he is to have a chance of claiming the White House.
His voice is a little weaker but he draws energy from large fired-up crowds who break into chants of "USA! USA!" In St Augustine, people were queuing from 10:00 for a 15:00 speech.
As the Trump team bounces from campaign stop to campaign stop, sweeping along cleared highways escorted by outriders, some advisers accept that crowd sizes don't necessarily translate into votes. And yet they wonder at the 12,000 (their figure) who turned out on Monday night in Tampa for a candidate some have written off.
Whether Trump goes down to defeat, he has built a formidable following. There can be a dangerous edge to the passion of his supporters.
He speaks with the help of a prompter but he rarely sticks to his text. To his supporters his refusal to be scripted, to stick to the customs and niceties of political debate is a mark of his authenticity.
Read full article Trump faithful undeterred by polls and scandals