UK faces tough divorce from the EU
31 March 2017

From the section

Europe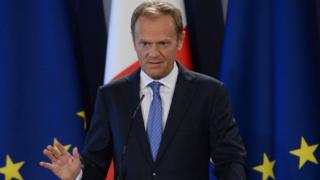 It is clear that the UK will face a tough divorce from the European Union after European Council President Donald Tusk characterised the forthcoming talks as "difficult, complex" and possibly "confrontational".
From the outset it is clear that the EU side will control the agenda.
That was underlined again on Friday in an early skirmish over procedure. Theresa May wanted divorce talks to run in parallel with negotiations about a future trading relationship. That won't happen.
German Chancellor Angela Merkel had been quick to rule that out and was given swift backing by the French president Francois Hollande. That was reinforced again on Friday with the leak of the European Council's negotiating guidelines.
Why is this so important?