Greece votes 'No' and gambles its future
6 July 2015

From the section

Europe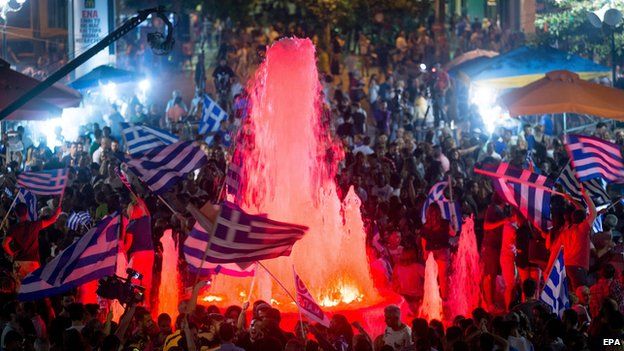 Greek voters have delivered a defiant response to Europe. Political leaders and heads of government had lined up to warn the Greeks that a "No" vote would be a vote to leave the euro. It did not deter them. Indeed many voters seemed to revel in their resistance.
The European Project is now facing its gravest crisis.
The size of the "No" vote surprised the Greek government. In the end the voters agreed with Prime Minister Alexis Tsipras that the country's creditors were trying to "asphyxiate" the Greek economy. They bought his argument that a "no" vote would only strengthen his hand in negotiations.
Despite the closed ATMs, the banks on the verge of running out of money and a collapsing economy, Greeks have once again rejected the policy of austerity authored in Berlin and Brussels.
Critical days
It leaves German Chancellor Angela Merkel facing the deepest challenge of her nearly 10 years in power. Over the next 48 hours she must make a series of choices; choices that will determine whether she can keep the eurozone together.