Why Brexit is still undefined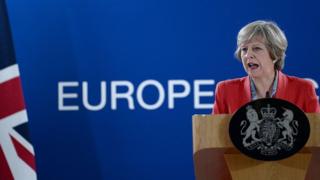 It is a curious moment in British politics. The government is facing the most important negotiations in over 50 years. The outcome will shape the future of the UK economy - but you would not necessarily know it.
The consumers - the voters - appear to be shrugging off the uncertainties, the unknowns and the warnings of future risks.
Many economists had predicted that a vote to leave the EU would tip Britain into recession. Instead, after six months, the UK is on track to be the fastest growing economy in the G7. Orders in the manufacturing sector are expanding at the fastest rate in 25 years.
Consumers are acting "almost as though the referendum had not taken place" asserts Andy Haldane, the Chief Economist at the Bank of England.
The economic forecasters are on the defensive or taking a turn in the confessional, admitting that the forecasting profession "is to some extent in crisis". It is a reminder of what I was once told - that economics is not a science but the politics of money.