US-UK: Strains on a special relationship
20 April 2016

From the section

UK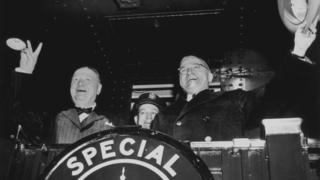 The United States has long held views about Britain's place in the world.
Even before World War Two had ended, Washington was musing on how a victorious but exhausted Britain would adjust to a world where it had less power and influence.
The US Secretary of State Edward Stettinius wrote to President Roosevelt and said: "Never underestimate the difficulty an Englishman faces in adjusting to a secondary role after so long seeing leadership as a national right."
The Americans were uncertain of how Winston Churchill saw the post-War world and Britain's place in it.
In 1944, just before the Normandy landings, he had turned to General de Gaulle of France and told him: "Every time Britain has to decide between Europe and the open sea, it is always the open sea we will chose."