The riddle of Europe's election season
21 February 2017

From the section

Europe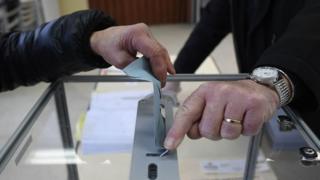 Many Europeans eye the months ahead with foreboding. They see anti-establishment parties on the ascendancy. Angela Merkel - for so long Frau Europe - may lose power. And the financial markets are skittish over the possibility of a Marine Le Pen victory in France. Every edge up in her poll ratings sends bond yields rising.
And yet an entirely different scenario may play out. It is quite possible that before the end of the year observers will declare that the Brexit-Trump tide has turned and that European integration has found new champions.
First to the politics: in the Netherlands Geert Wilders has a history of under-performing at the polls. Even if he emerges as the leader of the largest party after the elections in March, he will struggle to get a foothold in government.
The contest that preoccupies Europe's political class, however, is France. The conventional wisdom is that Marine Le Pen will win the first round in the presidential elections but be substantially defeated in round two. But France is on edge, gloomy and unsure of itself.
She has expanded her lead in the polls and closed the gap on her most likely challenger in the second round, Emmanuel Macron. Still, he retains a 16% poll lead.