Widespread revolt against the political centre
24 May 2016

From the section

World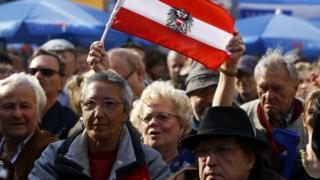 On both sides of the Atlantic, liberal democracy is on the defensive.
Post-War politics, built on a moderate consensus, is under strain.
The centre is holding but only just.
Austrians in large numbers voted for a far-right candidate in the face of much of Europe warning against allowing the first right-wing populist to become head of state since World War Two.
The strong showing of a candidate from the Austrian Freedom Party joins the anti-establishment success of Donald Trump in America.
Read full article Widespread revolt against the political centre