Brexit: The mind games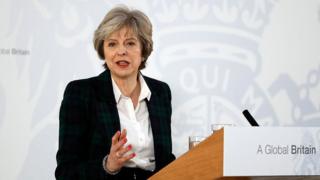 Psychology is always part of tense negotiations. In her Lancaster House speech this week Theresa May sought to seize back the advantage before the real battles start at the end of March. She wanted Europe to know that Britain would not be coming to meetings on the defensive, cap in hand.
During the 40 minutes of her speech she managed to shift the balance of power a little. A few days before she spoke I had been in Brussels and had spoken to a very senior European figure.
He was pessimistic. Mrs May, in his view, did not have a good relationship with other European leaders. He thought the negotiations could "go wrong from the start" and was in no doubt that in those circumstances the UK would be the loser.
He pointed out that Brexit was not high on the agenda for voters in the other 27 EU states. It was a way of saying that in the forthcoming negotiations the UK was the needy one. Britain would have to compromise.
What he reflected is the widely-held view in the EU that the divorce will be messy, that real damage will be done to the British economy.