Why Italy's vote matters
5 December 2016

From the section

Europe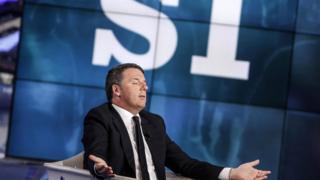 In the year of political upheavals, there has been another popular uprising - this time in Italy.
Here is how the narrative goes: Italian Prime Minister Matteo Renzi is the establishment figure. He has gambled on holding a referendum to win backing for his reforms. He loses, and resigns.
To some, this is the fall of the third domino: first Brexit, then Trump, now Italy. It marks, so it is argued, the onward march of the populists.
Renzi has had strong support from global leaders. President Obama rolled out White House pageantry for him and even the Germans, with whom Renzi has rowed over austerity, have been singing his praises.
The concern is that now Renzi has said he'll go, Italy's politicians will squabble, the country's fragile economy will suffer, borrowing costs will spike and once again Europe will be facing a crisis in the eurozone.