Cameron v Miliband: The debates begin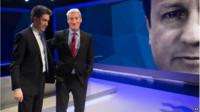 It was not a head-to-head debate. But it was a back-to-back job interview and a good one at that.
It gave voters the chance to see the two men who could be our prime minister tested, above all, by Jeremy Paxman's robust questioning. (Full disclosure: I once spent a summer doing some paid research work for Jeremy when I was a student).
And both men were revealed to be vulnerable over their records in office and their promises for the future.
David Cameron was forced to admit to his missed targets on immigration and the deficit. He was unable say how he would meet his targets to cut welfare.
Ed Miliband was forced into the defensive over Labour's past record on the economy and immigration. And he was unable to spell out his own plans to cut spending.