UK's aid budget: Decision time for Theresa May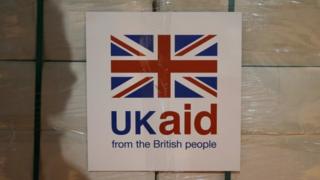 A few weeks ago, Theresa May did something rather unusual. The prime minister went to Scotland and delivered a speech in praise of Britain's aid budget. As far as I can determine, this was a first. She praised the Department for International Development (DfID) that delivers that budget.
In an unexpected flurry of alliteration, she praised the aid money being spent in Somalia, South Sudan and Syria. She said UK aid "helps millions around the world and speaks strongly to the values that we share as a country".
But here's the thing: at no point did she mention the government's commitment - set out in law - to spend 0.7% of Britain's national income on foreign aid.
As ever, Mrs May was hedging her bets. For she is torn between competing pressures. On the one hand, she is under political pressure from supportive newspapers such as the Daily Mail to scrap the commitment. Some of her MPs are joining in, publicly attacking a £13bn budget they see as too large and too wasteful.
In a time of austerity and rising deficits, there are genuine questions about whether the aid budget should continue to be protected when others are facing cuts.
Read full article UK's aid budget: Decision time for Theresa May