Hope for a fresh settlement in Cyprus
8 January 2017

From the section

Europe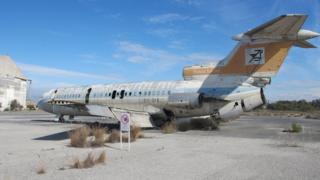 There is small corner of Europe where time has stood still since 1974. Whole neighbourhoods lie deserted. Houses crumble gently into empty streets.
Cars that were once new and shiny sit enshrouded in dust in garages. Debris litters the runway of a former international airport, the solitary abandoned passenger jet a ghostly reminder of the tourists who used to arrive here daily.
Welcome to the "buffer zone" in Cyprus.
More than 40 years ago, this thin strip of land more than 100 miles (160km) long was hastily established after a coup inspired by Greece failed and Turkish forces invaded.
Since then, UN peacekeepers have patrolled the empty streets and manned the distant watchtowers that separate the Greek Cypriot south from the Turkish Cypriot north in this former British colony.