Could UK be forced into quick EU exit?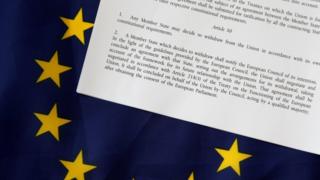 We have voted to leave the EU but when will we actually start negotiating our exit?
There is lots to discuss with our EU colleagues: what to do with half-used EU budgets and EU citizens living in the UK and British citizens living in the EU. There is also, of course, the thorny issue of Britain's future trading relationship with the EU once we leave.
So you might imagine everyone will want to crack on as quickly as possible.
And certainly that is the view of many EU leaders. They want to end the uncertainty for the markets and begin formal talks.
The only problem is that David Cameron wants to delay the start of exit talks until a new Conservative leader has been elected in October.