UN secretary general: The hardest job in the world?
5 October 2016

From the section

Europe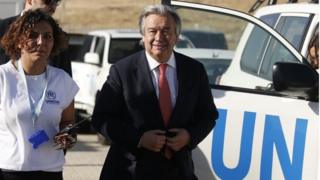 The United Nations, in the words of one diplomat I spoke to, is "broken and disheartened". So the task for the next Secretary General, Antonio Guterres, is to mend the organisation and give it some heart.
The outgoing incumbent, Ban Ki-moon, has been praised for his soft-spoken persistence in persuading the international community to do more on climate change.
Yet governments and diplomats have long wanted a secretary general with more clout, better English and, above all, stronger leadership.
So they have chosen not another foreign minister but - for the first time - a former head of government to be the ninth leader of the world's largest intergovernmental organisation.
Mr Guterres, 67, served as Portugal's socialist prime minister from 1995 to 2002, driving through the financial reforms that secured his country's membership of the European single market.
Read full article UN secretary general: The hardest job in the world?