G20: Theresa May navigates changing UK role on international stage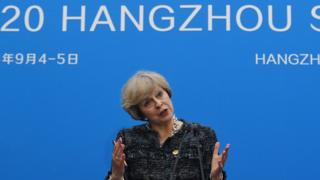 As first days go at an international school, the G20 passed off alright for the new pupil.
Theresa May met all the right people, the language differences did not trouble her and she refused to allow the big boys to bully her behind the bike sheds. The prime minister held her own.
At the end of the two days, she had managed to speak to almost all the world leaders at the summit. They were interested because she was an unknown quantity and that rare beast, a European leader who is likely to be around for a while.
They were also keen to hear what she said about Brexit. She assured them that Britain was open for business and said she had had "pleasing and useful" discussions about future trade deals, in particular with India, Mexico, South Korea, Singapore and Australia.
She floated a few ideas of her own: the need for G20 countries to do more to stop foreign fighters dispersing to new failed states once they were squeezed out of Libya, Iraq and Syria; and the need for G20 countries to ensure that the global economy spreads wealth more fairly, an issue the Australian Prime Minister, Malcolm Turnbull, called "civilising capitalism".
Read full article G20: Theresa May navigates changing UK role on international stage