What do Trump's words on Iran mean for US/UK relations?
13 October 2017

From the section

UK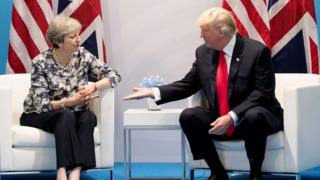 There was a time when President Trump's refusal to certify the Iran nuclear deal would have sent the British foreign policy establishment into a tailspin.
His campaign attacks on what he called "the worst deal in the world" left policymakers in the UK fearing that here, finally, was an issue on which Britain's relationship with the US could founder.
Mr Trump believes that Iran is no longer restricting its nuclear programme enough to justify the sanctions relief it enjoys. As such, he will no longer certify US support for the agreement. The UK disagrees and believes Iran is complying fully. These are two positions that cannot be reconciled.
British ministers and officials loathe being at odds with Washington. They find it a culturally difficult place for them to be. And as they prepare to leave one traditional pillar of British foreign policy, the European Union, they want to stick even more closely to the other pillar, namely the United States.
So for the UK and the US to be utterly divided over a central plank of international policy is no little thing. Britain had to choose between its allies in America and Europe and it has taken the path of its continental partners.
Read full article What do Trump's words on Iran mean for US/UK relations?