Theresa May reprimands Johnson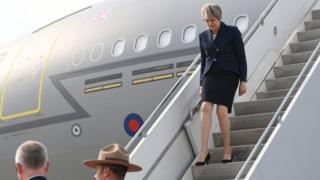 "This government is driven from the front."
It wasn't the most vicious reprimand. Boris Johnson and many of his contemporaries will have heard and perhaps felt far worse at Eton College.
But the meaning was clear enough. "I'm in charge," Theresa May was saying, "and not Boris".
Bout of speculation
The prime minister's assertion in plain language that ways to spend money saved by the Treasury from Brexit would be taken by the government, by ministers collectively (and not simply by Boris writing a 4,000 word essay for a newspaper with little or no prior consultation with Number 10) sounded like a second sharp little slap.
The foreign secretary's intervention has set off a new bout of speculation about power play and tension in government, even paper talk that Mr Johnson might contemplate a sudden and hugely disruptive resignation.