Norcia earthquake: Why multiple quakes are hitting Italy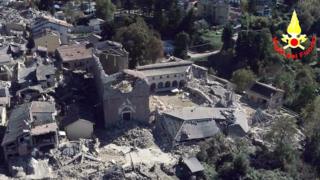 Sunday's early-morning quake near the town of Norcia is the biggest in Italy since the Magnitude-6.9 Irpinia event in the south of the country in 1980.
Back then, some 2,500 people died and more than 7,000 were injured. Thankfully, we are not expecting loss of life on that scale here.
In part this is because of the strides made in recent years in improving readiness and reaction.
But the fact that the population of central Italy is currently living on such an acute alert status also will have further limited any dreadful consequences.
We have now seen three Magnitude-6 tremors in Italy's Apennines region in just three months.
Read full article Norcia earthquake: Why multiple quakes are hitting Italy