Quakes 'ever present' for Apennines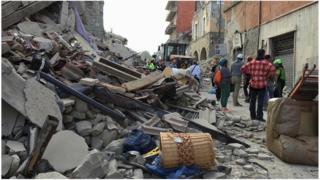 Quakes are the ever present danger for those who live along the Apennine mountain range in Italy.
Through the centuries thousands have died as a result of tremors equal to, or not much bigger than, the event that struck in the early hours of Wednesday.
We all recall the L'Aquila (Magnitude 6.3) event of 2009 in which 295 died. But go much further back to Avezzano (Magnitude 6.9-7.0) in 1915, which claimed 30,000 lives; and to 1703 when a trio of Magnitude 6 quakes killed at least 10,000 people.
Thankfully, we tend not to see deaths on those scales anymore, and that is because of more robust building, better preparation and more co-ordinated emergency responses after the fact.
What doesn't change is the geological cause. On the grand scale, Italy's seismic problems are driven by the great collision between the African and Eurasian tectonic plates.
'Pull-apart'