Europe's ExoMars missions are go - finally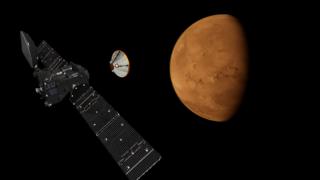 The first of Europe's ExoMars missions is finally ready to get under way.
This initial venture will involve a satellite going to the Red Planet to study trace gases, such as methane, in the atmosphere.
The orbiter will also drop a probe on to the surface to test technologies needed to land the second mission - a rover - that should arrive in 2019.
The path to this point has been a tortuous one, with the programme coming close to collapse on several occasions.
ExoMars has gone through several iterations since being approved formally by European Space Agency (Esa) member states in 2005. Its vision has expanded from a small technology demonstration to a two-legged endeavour that will cost in the region of 1.3 billion euros.
Read full article Europe's ExoMars missions are go - finally