Heady days for ocean surface mappers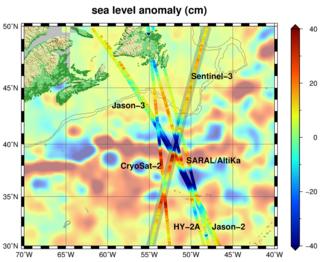 This is an unprecedented time for the study of the oceans.
Space agencies are now flying six satellite altimeters, returning large volumes of data on the height and shape of the sea surface - and in rapid time.
The information is fed into all manner of applications, from forecasting the weather to understanding the migratory habits of marine creatures.
The main image at the top of this page gives a snapshot of the six missions in action as they monitor the North Atlantic.
Each is seen to fly over the Gulf Stream - the current of warm water that rides up the East Coast of the US and then crosses to Europe.