Scientists trace South Georgia's giant ice history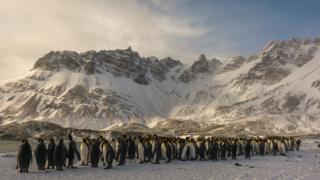 South Georgia is an island of astonishing beauty - of imposing landscapes, and bewildering numbers of penguins, seals and seabirds.
It also has some impressive ice fields, although none it seems quite like those of the past.
Some 20,000 years ago the island's glaciers pushed out 50km and more from their current positions, reaching to the edge of the continental shelf.
The British Overseas Territory was in effect covered by a giant ice cap.
This realisation is reported in the current edition of the journal Nature Communications.
Read full article Scientists trace South Georgia's giant ice history