Europe races to meet Orion deadline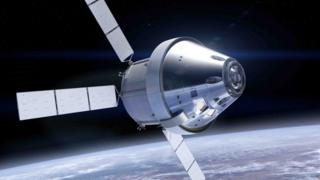 European industry has begun assembling the "back end" of the Orion crewship that is due to make an important 2018 demonstration flight around the Moon.
Orion is the next-generation vehicle that the US space agency (Nasa) will use to send astronauts beyond Earth, to destinations like asteroids and Mars.
But it needs a "service module" to provide propulsion, power, temperature control, and to carry water and air.
That job will be done by the unit now being built by Airbus in Germany.
It is an immense piece of hardware in the shape of a 4m-wide cylinder. In flight configuration, it will weigh some 13 tonnes.