Martian water streaks present exploration challenge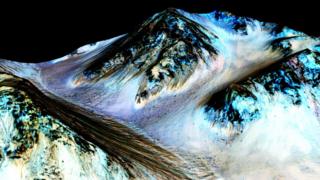 Wherever there's water, there's a good chance life can thrive.
H2O is the "lubricant" of biochemical reactions, and Nasa's announcement that liquid water flows under certain circumstances on the Red Planet will heighten expectation that this normally freezing, desiccated world might just provide a foothold for microbial organisms.
We know from Earth that life is tenacious.
Even in super-salty or acidic lakes, toxic dumps, and even boiling pools, some bugs are capable of eking out an existence. We call them extremophiles.
The immediate reaction of many to Monday's announcement will be to want to go look for extremophiles on Mars - to send either scientific instruments to examine the briney streaks in situ, or better still to bring some rock and soil samples back to Earth labs for analysis. But that is easier said than done.
Read full article Martian water streaks present exploration challenge