Are Mexico's two September earthquakes connected?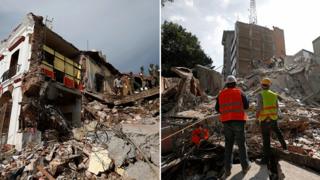 Mexico had barely begun to deal with the aftermath of one big quake before another rocked the country. People will naturally ask: are they related? Did one cause the other?
Seismologists will spend a good deal of time in the coming months debating this issue, but on the face of it they look to be unconnected.
The 7 September, magnitude 8.1 event certainly struck a similar region of the tectonic boundary, but the hypocentre - the point of origin within the Earth - was some 650km (400 miles) from Tuesday's magnitude 7.1.
If the second quake were an aftershock you would normally expect a closer proximity, say seismologists - within 100km. That's not a definitive statement and scientists are sure to pore over the data as it comes in. Perhaps they will eventually identify a way in which stress was transferred within the crust.
What is related, for sure, is the driver. Mexico sits above three large tectonic plates. Both the 7 and 19 September events occurred where the Cocos plate, which carries the Pacific Ocean floor, dives under the North American plate, the platform for most of the Mexican landmass.
Read full article Are Mexico's two September earthquakes connected?