Trump rhetoric versus Afghan reality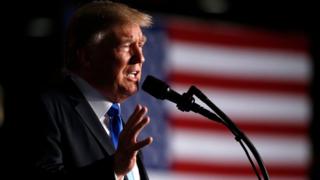 After some 16 years, the battle for Afghanistan - America's longest running war - is going to get a whole lot longer.
This was the essential message from President Donald Trump's address. His stress on abandoning timetables and moving to a "conditions-based approach" as he called it, means that US troops will be in Afghanistan for a considerable time to come.
The decision on a new Afghan strategy was much delayed, but after much prevarication he has essentially followed the line of his senior military advisers.
He refused to give any numbers as to additional troops and so on, but the plan backed by his generals is thought to involve the despatch of some 3,800 additional military trainers and advisers to the country - so it is likely that this is part of what will happen.
US air support - crucial in helping Afghan government forces to withstand Taliban pressure on the battlefield - may also be stepped up, but here too President Trump was playing his cards close to his chest.