North Korea tensions: Why clarity is key to avoiding a spiralling crisis
26 April 2017

From the section

Asia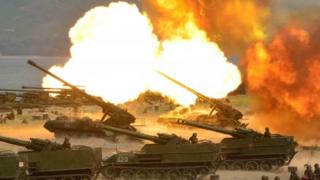 Some 10 days ago, as tensions mounted on the Korean peninsula, a British newspaper ran a cartoon showing a smiling North Korean leader, Kim Jong-un, alongside a similarly smiling Donald Trump.
Under Kim Jong-un was the caption "unpredictable, oddly coiffed nutter threatens world with massive firepower". Next to him, the beaming President Trump was wearing a shirt emblazoned with a picture of the massive bomb that US forces had just dropped in Afghanistan, with the slogan "Been there, Done that, Got the T-shirt!"
It was an example, perhaps, of the cynicism Mr Trump's arrival in the White House has provoked among many western European commentators.
But for many outside observers, there are good reasons to worry. Both leaders - albeit in their different ways - are seen as unpredictable and inexperienced. Both have mounted a war of words against the other. And both are busy sending military signals which, intended or not, are raising the risk of war.
However, what needs to be explained is: why now? What has suddenly prompted this escalating tension? And is a conflict really a possibility?
Read full article North Korea tensions: Why clarity is key to avoiding a spiralling crisis