Tony Abbott: The Barack Obama antidote?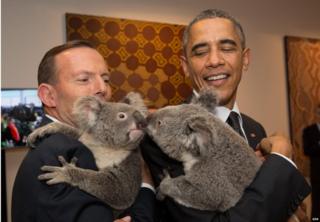 The last thing the United States probably needs right now is another Republican presidential candidate.
The race is already chock-a-block with conservative white middle-aged men.
But if pledging an entirely different vision to Barack Obama is a key credential of any serious contender, the Australian Prime Minister Tony Abbott would slot quite nicely into the Republican field (notwithstanding his monarchist leanings).
Who knows what was discussed in the intimate moments of chitchat when the two men met last November at the G20 in Brisbane? (You'd have to ask the koalas.)
But you can't imagine the leaders see eye to eye on much.