Trump proves G20 is less than sum of its parts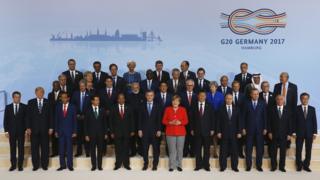 We'll get to the G20 in a moment. But let's start with organisational psychology. There are some groups or teams that are greater than the sum of their parts, and there are others - that for all the talent and power they may have individually - are less.
Think soccer. Think last year's European Championship. Then tiny little Iceland were the heroes of the competition - and not just because of their wonderful fans.
This team of part-timers played way above their ranking, there was solidarity, singleness of purpose, real determination. And think of England. Absurdly well paid and pampered players, whose showcase is the Premier League, the wealthiest in the world - and they were just a bunch of inked and primped individuals who seemed to have no team spirit. Dire. Just dire.
And so to the G20. It is not lousy like the England team were - I mean nothing could be as bad as that. But it is less than the sum of its parts.
What of the joint communiqué (that will have been toiled over by bureaucratic draftsmen for days to find a bland enough form of words that all the leaders can sign up to) will be remembered in six months' time? What ringing declaration will change lives? What plan of action will we look back on and think "turning point"?
Read full article Trump proves G20 is less than sum of its parts