Trafficked babies, black money and India's values
9 December 2016

From the section

India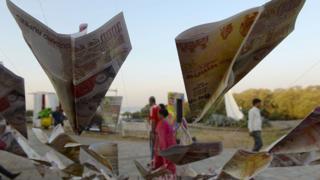 We all know that the price of something doesn't always indicate its true value, but prices can still be very revealing.
Two very different sets of prices demonstrate that in India this week.
One lays bare with ice-cold precision the profound prejudices that still exist here, the other is powerful evidence that the government's dramatic attempt to root out tax evasion by cancelling the nation's cash will not work.
Let's take the most shocking first, the price of babies.
Last week I travelled to Kolkata (Calcutta) to report on a child-trafficking ring the police in West Bengal have just cracked.
Read full article Trafficked babies, black money and India's values