Why Indian army defended Kashmir 'human shield' officer
31 May 2017

From the section

India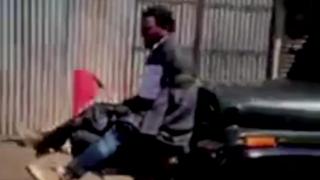 If you want to know why India has courted international controversy by awarding a medal to an army officer who tied a civilian to the front of a jeep, you need to understand what is really happening in Indian-administered Kashmir.
What happened?
On 9 April, a Kashmiri man called Farooq Ahmed Dar was trussed to the spare tyre at the front of a jeep and driven on a five-hour journey through several villages at the head of an army convoy.
He had just voted in a by-election for the national parliament when he was picked up by an army patrol.
He was allegedly beaten before he was lashed to the vehicle with a sign saying "This is the fate that will befall stone throwers" pinned to his chest.
Kashmir is disputed between India and Pakistan and Indian-administered Kashmir has seen a fresh upsurge of violence in the past few months, with stone-throwing civilians pitted against military personnel.
Why was he seized?
Read full article Why Indian army defended Kashmir 'human shield' officer