Taliban open letter to Trump urges Afghan withdrawal
15 August 2017

From the section

Asia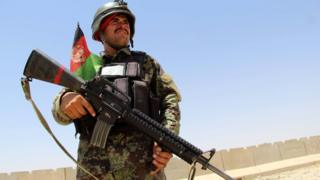 As the White House mulls its next move in conflict-hit Afghanistan, the Taliban offer their advice in an open letter to the US president.
Donald Trump is, as the world knows, happy to talk about all sorts of things, but one area where he has maintained his silence is American policy in Afghanistan.
His military advisers concede that America's longest-ever war has reached a stalemate and have advised that he increase troop numbers to break it.
In the past, Mr Trump has hinted that his instinct is to cut America's losses and begin to pull back from the conflict. Meanwhile, the world awaits a decision.
We were told the White House would make its call by mid-July, but there has been silence. Then last week, Mr Trump announced he was "getting very close" to deciding on a strategy.
Read full article Taliban open letter to Trump urges Afghan withdrawal