Will HSBC really quit the UK?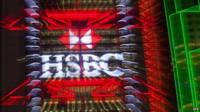 This morning HSBC has announced that it is going to look - again - at whether it would be better served by moving its headquarters out of London.
Regulatory pressure, political attacks following revelations of errant behaviour and hefty new taxes have sparked the decision.
HSBC has also said that uncertainty over Britain's future in the European Union is weighing on its future as well as new rules which oblige banks to split their retail and investment banking activities - the ring-fence.
The pressure to launch this review has come from the HSBC board which has been pushed by investors worried about sub-par performance. Profits are down at the bank and the share price is under-performing.
If HSBC were to move - and that is a very big, costly, politically difficult if - it would be a significant moment for the City and Britain's place as the home of major global banks.
Bank levy