Fox warns European Union over tariff war
29 September 2016

From the section

Business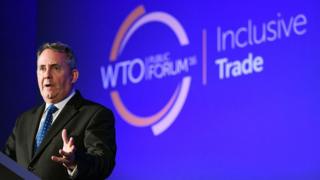 It is the strongest signal yet that Britain is plotting a "hard exit" from the European Union.
Liam Fox, the international trade secretary, said that he wanted a deal with the EU "at least as free" as the present arrangements.
He said anything else would be bad for all the people of Europe, whatever some politicians on the continent might say about the need to show Britain that leaving the EU is not cost free.
He also suggested he wanted Britain to take its seat as an independent member of the World Trade Organisation after Brexit.
At present, Britain's membership is as part of the EU and some argue that Britain joining the WTO as an independent member will be a long and difficult process.