Rolls-Royce warns Osborne over cuts to research support
24 November 2015

From the section

Business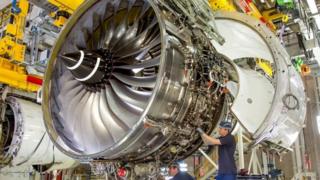 How valuable is a sizeable engineering firm to the UK?
Rolls-Royce, which makes and maintains aircraft engines and supports submarine engineering for the offshore oil and gas sector, suggests the answer to that question is - very.
The company directly employs more than 21,000 people in the UK, 9,000 of whom are engineers; the kind of high-value, highly technical jobs that the government is keen to promote because such jobs are hard to replicate abroad and enable companies to make things the world wants to buy.
Like aircraft engines.
Rolls-Royce's own figures reveal that the UK division of the company generates annual sales of £5.7bn, 75% of which comes from exports.
Read full article Rolls-Royce warns Osborne over cuts to research support