UK explores multi-billion pound free trade deal with China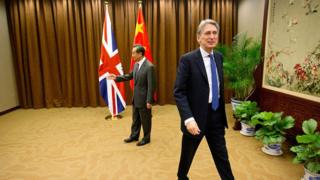 Philip Hammond has begun discussions with China on an ambitious free trade deal which could see greater access for major Chinese banks and businesses to the UK economy.
The chancellor told me that despite a short term economic shock to the economy of Britain leaving the European Union, it was now time to explore "new opportunities" across the world.
"What we now need to do is get on with it in a way that minimises the economic impact on the UK economy in the short term and maximises the benefit in the long term," Mr Hammond said, admitting that there had been "global disappointment" about the Brexit vote.
Chinese state media reported earlier in the month that the Chinese Ministry of Commerce wants to do a UK free trade deal.
Mr Hammond has now revealed that Britain is also keen.
More opportunity?
Read full article UK explores multi-billion pound free trade deal with China