Bank of England puts global recession at heart of doomsday scenario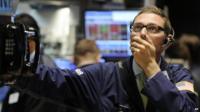 The Bank of England has outlined its annual "stress test" - the exam Britain's major banks must go through to ensure they have enough available capital to withstand a global downturn.
After last year's test which focused on a collapse in house prices in the UK, this year's test will have a more international flavour.
Under the scenario, global growth will fall, the Chinese economy slow markedly and the UK and the eurozone will face a new bout of recession with rising unemployment and falling property prices.
In Britain, the economy will contract by 2.3%.
As the Bank grapples with the new crisis, interest rates in the UK are cut to zero.
Read full article Bank of England puts global recession at heart of doomsday scenario