Chancellor Hammond's £10bn of green shoots
21 February 2017

From the section

Business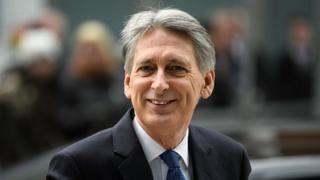 Philip Hammond is not a man known for political surprises.
Spreadsheet Phil, as he probably doesn't like to be called, prefers to keep any rabbits that might be hopping around Whitehall stuffed deep in the Treasury's public spending hat.
So, anyone thinking that today's better news on the state of government's finances will lead to any Budget largesse is likely to be disappointed.
The public sector net borrowing numbers showed a surplus in January, a month when the government receives a significant proportion of its tax receipts.
With those receipts higher than expected and economic growth stronger than expected, the government earned more than it spent to the tune of £9.4bn.
Read full article Chancellor Hammond's £10bn of green shoots