Hammond says Treasury's EU economic shock analysis 'partially invalid'
19 October 2016

From the section

Business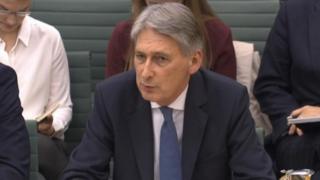 The chancellor has said controversial Treasury analysis of the economic shock the UK might face if it left the European Union is now "partially invalid".
It is a significant break with his predecessor, George Osborne, and with what became known by critics of the Remain campaign as "Project Fear".
Philip Hammond said some of the assumptions behind the document - which suggested a significant drop in economic growth - had been superseded by events.
Those close to the chancellor made it clear the models were not wrong for the time, but the circumstances had now changed.
It is also clear that Treasury officials still believe that there will be an economic slowdown as Britain negotiates its exit from the EU, a position backed by the Bank of England.
Read full article Hammond says Treasury's EU economic shock analysis 'partially invalid'