The country stuck between the US and China
17 August 2017

From the section

Business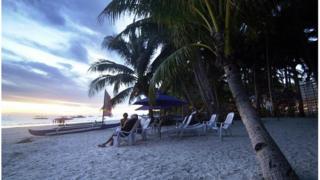 Two years ago the Philippines was entrenched in the bitterest of disputes with regional giant China, bringing a David v Goliath-style case against it over the South China Sea islands.
Fast forward to present day: now, the Philippines wants Chinese cash.
What happened? Well in part there is a genuine dilemma here for the Philippines.
It's a small island country, stuck on the sidelines of the Asia-Pacific, surrounded by much larger, powerful nations.
The Philippines' main source of income and military assistance has been from its former colonial masters, the United States.
Read full article The country stuck between the US and China