A political convention like no other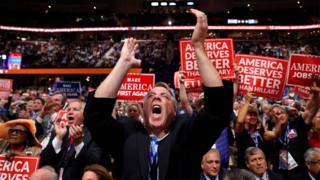 This is my seventh US political convention and I have never seen anything quite like this.
I've never heard a speaker booed on the stage or a party this beset by internal strife or a wing of a party drag the rest out to the fringes of political respectability. It's stunning and begs the question: Are we watching the death throes of the Republican Party?
Many people around the world may be surprised that the most vocal challenge to Donald Trump comes not from the American political centre but from the right of the Republican Party. Ted Cruz is a Christian conservative who opposes Donald Trump for being too liberal and he is the one who's stood up and made a big stink at Mr Trump's coronation party.
Mr Cruz is right, of course: on economic issues Mr Trump is liberal by the standards of the Republican Party.
But it's noticeable that the objection to Mr Trump in Cleveland is definitely not because of some of the more contentious things he has said about Muslims or Mexicans or women. There's barely a squeak of complaint about those things here in Cleveland. Indeed, in some ways the delegates at this convention seem to have gone beyond even Mr Trump on politically extreme rhetoric.