Brexit: A messy divorce between two Britains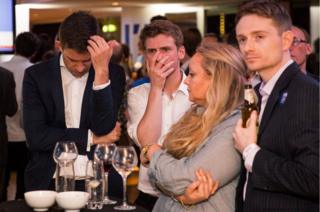 Londoner 1 to me this morning: "It feels like we've gone to war and the whole world has gone mad."
Londoner 2 to me this morning: "There are too many stupid people here, that's why we had to have Brexit."
The British capital is in shock today. Even people who voted Leave seem rather stunned by what's happened.
It is also a country deeply, bitterly divided and it is hard, so soon after this seismic result, to see how it can easily be unified.
Half the population is giddy, half despairing. This is not just a divorce between Britain and the EU, it feels just as much like a divorce between one Britain and another.
Read full article Brexit: A messy divorce between two Britains