US election: Confessions of a four-time caucus correspondent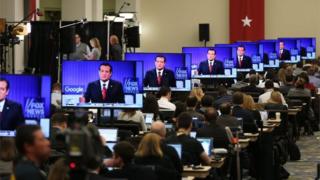 I went to my first Iowa caucus in 2004, which I realise makes me a novice by the standards of veterans of the American press corps, who can can wax informatively about the Dukakis campaign of 1988 or even Reagan's triumph in 1980.
But even those four cycles have given me some insight into what makes the Byzantine caucus process so compelling. In some ways Iowa is unique in the US presidential election process but it also represents a snapshot of the broader American mood.
Iowa is exciting, but more than that, it's inspiring. Residents of this large, mid-Western state give the most impressive display of democratic commitment I have ever come across in the West.
It is hard work caucusing and they take it very seriously here. They attend rallies, listen to speeches, put up with endless TV ads and then on a freezing winter's night they schlep through the snow to spend anything up to three or four hours casting a single vote.
I've even sat in a two-hour meeting where local residents were being instructed on how to caucus. They weren't even voting yet, but they still showed up.
Read full article US election: Confessions of a four-time caucus correspondent