What's next after one month of Trump drama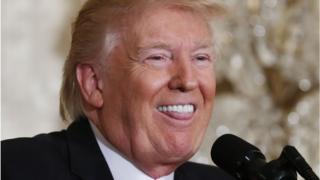 Four weeks. Twenty-eight days. It feels like 280 days. I feel 280. If Donald Trump is exhausting even the news-hungry political journalists, I wonder what he is doing to the rest of the world.
For the first three weeks I started the day repeating a mantra, "watch what he does, not what he says." I've discarded that notion. What Mr Trump says and how he says it is an important part of his presidency. His rhetoric, both in person and Twitter, appeals to his supporters. It's new and fresh and irreverent. But one day it could also be his undoing. He is increasingly losing respect among key Republicans, and he needs them to govern effectively.
This is my fourth American administration and we've never seen anything like it for sheer non-stop drama. Lewinsky was a daily feast of slightly prudish titillation, but it was one story line, and in the end it was just sex. 9/11 was far more serious and scary, and the ramifications lasted far beyond that fateful morning. But in a way it was a more conventional (though nonetheless horrifying) story of geopolitics and ideology. We journalists knew how to cover them both.
Sometimes now, I admit, I'm at a loss. There is so much to say and think, and even feel, about the Trump administration that I find myself curiously stuck for words.
What's the most important story here? Is the psychodrama of a president who is both fantastically confident and oddly insecure, who publicly lashes out those who offend him and rewards those who please him? Is it the hard right turn he plans for America? Is it Russia, the curious crush Donald Trump seems to have on Vladimir Putin and what that might mean for global security? Is it America's allies, floundering in the face of this unpredictability?
Read full article What's next after one month of Trump drama