French election: Why EU should not count its chickens on Macron
24 April 2017

From the section

Europe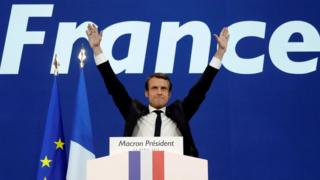 The relief in Brussels is palpable. It believes it is (almost) back from the brink.
A passionate Europhile, Emmanuel Macron's presidential campaign is as much blue and yellow as it is the "tricolour" of France.
The EU, he believes, should to be at the heart of French politics, with more integration in finance, defence and migration.
He wants to breathe life into the now-spluttering Franco-German motor; to take a lead role with Germany to - in his eyes - Make Europe Great Again.
Angela Merkel and the European Commission's Jean-Claude Juncker can hardly conceal their delight. Both were quick to get on the phone to congratulate Mr Macron on his strong showing in Sunday's vote.
Read full article French election: Why EU should not count its chickens on Macron