Michel Barnier: The EU's point man on Brexit negotiations
20 July 2017

From the section

Europe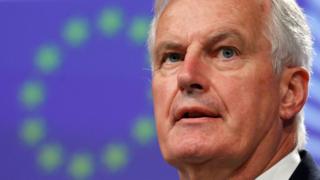 Many and bitter have been the criticisms levelled at the British prime minister and members of her cabinet when it comes to their handling of Brexit, so what about the other side: Michel Barnier, the EU's chief Brexit negotiator and his colleagues - what's the dirt on them?
When Mr Barnier was initially named for the role there was a sharp intake of breath in London. His time as EU commissioner for the single market (from 2010 to 2014) included a clash with the City of London over bankers' bonuses - earning him the remarkable British label: "the most dangerous man in Europe".
Reacting to Michel Barnier's Brexit appointment, the Financial Times quoted a senior banker saying: "It's incredibly provocative. This is Juncker's revenge on Britain."
But interestingly, since taking the job, there have been few direct attacks either in the UK or amongst EU countries which are usually critical of Brussels on Michel Barnier's Brexit manoeuvres.
Last month, after the first round of face-to-face EU-UK talks, the vociferously pro-Brexit Daily Mail described him as sleek, dandyish and the model of diplomacy except, it said, when he adopted the tones of an "upset divorce lawyer".
Read full article Michel Barnier: The EU's point man on Brexit negotiations