Off camera on the EU campaign trail
29 June 2016

From the section

England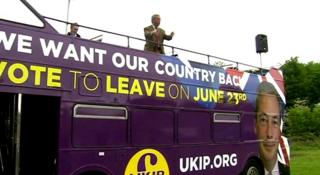 When political managers and spin doctors are fighting one of the tightest elections in living memory they will often go to the point of absurdity to ensure television pictures tell the message they want.
With the EU Referendum stubbornly stuck at neck-and-neck for weeks before we went to the polls stand-offs between TV crews and party organisers demanding to "check the shot" before their politician steps off the battle bus became an everyday occurrence.
Even with that level of scrutiny it did not always go to plan.
Take the prime minister's visit to drum up support for the Remain campaign among first-time voters in West Yorkshire.
On paper it was foolproof: a photo opportunity in a school library discussing the issues with sixth formers followed by an interview with me in a nearby empty classroom.
Two little words