Election 2016: Yorkshire voters face unprecedented polling booth choice
21 April 2016

From the section

England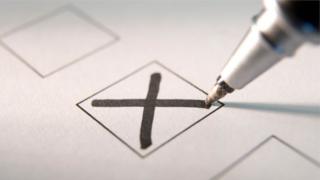 Voters in parts of Yorkshire could be forgiven for leaving behind piles of nervously chewed pencil stubs at their polling stations on 5 May.
Research shows that stress levels peak at the point where the pencil is poised to put a cross in the box against the name of the chosen candidate.
This year's local council and police commissioner elections could see even more confusion with some Yorkshire voters being asked to make up to five choices.
Even the most seasoned voter can often have a crisis of confidence in those final seconds in the privacy of the voting booth.
I have to admit that even after more than four decades of taking part in elections a question still flashes through my mind every time the pencil touches the ballot paper:
Read full article Election 2016: Yorkshire voters face unprecedented polling booth choice