Labour social event suffers from lack of party atmosphere
27 September 2016

From the section

England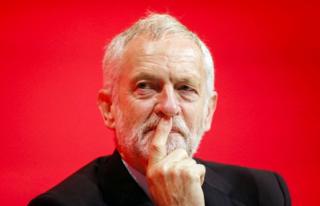 There wasn't much of a party atmosphere when Jeremy Corbyn took to the stage at a crowded evening social event for Yorkshire's delegates at Labour's conference in Liverpool.
This was not one of those audiences that had hung on to his every word at big street rallies in Sheffield and York during his highly successful re-election campaign.
In the packed meeting room were veteran MPs, activists , party workers and members who had attended functions like this for decades and had listened to similar speeches from Blair, Brown and Miliband in the past .
These events are traditionally used as a chance for party leaders to show that they are really just ordinary blokes who can have a laugh with their most important troops.
The audience respond by laughing at the jokes and applauding enthusiastically when the odd political point is dropped in between anecdotes of amusing campaign visits to liberally mentioned local towns and villages.
Read full article Labour social event suffers from lack of party atmosphere