Britain's foreign policy calculations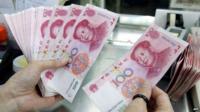 At the London Metal Exchange - owned by China since it was bought by the Hong Kong Stock Exchange three years ago - the shouts of traders haven't been replaced by the silent hum of trading computers.
The other thing that hasn't changed is the importance of the financial sector to the British economy. Preserving the City's position has been a priority for the government - so China unsurprisingly looms large in British foreign policy.
Looking back, the coalition government has repeatedly emphasised the importance of engaging more with emerging markets, so re-balancing away from Europe and towards fast-growing countries like China.
But, with China, there is a balance to be struck between economic gains and addressing political issues such as human rights.
When David Cameron met the Dalai Lama in May 2012, he was cheered by some. But China froze out Britain for more than a year, and when relations finally thawed, Britain seemed to redouble its efforts to make up for lost ground.