Warren Buffett's latest elephant deal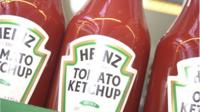 On the hunt for a big buy, billionaire Warren Buffett has again teamed up with Brazilian private equity firm 3G.
They together bought Heinz in 2013, and now, Heinz will merge with Kraft Foods to create the third largest food and beverage company in the US and the fifth biggest in the world.
Heinz, controlled by Buffett's Berkshire Hathaway and 3G, would own 51% of the new firm.
The Kraft Heinz Company, and shareholders in Kraft, will hold 49%. The new company will have revenues of around $28bn and the chief executive will be Heinz's current boss, Bernardo Hees.
It's a giant of a consumer goods company, with around a dozen brands that each generate revenues in excess of half a billion dollars, including Jell-O, Maxwell House, Oscar Mayer, Planters, and Velveeta.