General Election 2015: 'Exciting' South East campaign
30 March 2015

From the section

England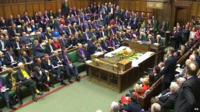 The phoney war is over - parliament has now been dissolved, and the battle for votes at the general election on 7 May is officially under way.
Here in the South East we're set for one of the most exciting and unpredictable election campaigns in a generation.
There are 29 seats across the South East. The map is predominantly blue with 25 of the seats held by the Conservatives.
The only exceptions are the two yellow Liberal Democrat seats of Lewes, which is held by Norman Baker, and Eastbourne, represented by Stephen Lloyd.
Rochester and Strood has one of only two UKIP MPs in the country. Mark Reckless will have to fight hard to retain the seat for his party.
Read full article General Election 2015: 'Exciting' South East campaign