Two men from Baghdad - the artist and the entrepreneur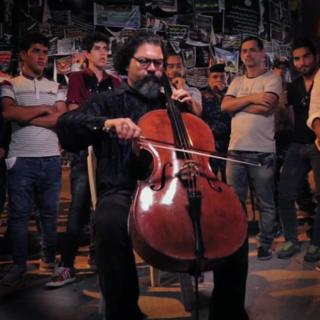 This is a story of Karim and Sadiq. It's also a story about Iraq.
The two men first met in 2001 - a time when Iraq was in the iron grip of Saddam Hussein, a time of few freedoms.
Karim Wasifi, studying music in the United States, slipped into Baghdad to help musicians and other artists. Once there, he needed to buy an Iraqi-made suit. He knew where to find it - in Baghdad's popular Karrada neighbourhood, a place where all of Iraq lived, people of every faith, and no faith. Sadiq Maroof was a young shopkeeper there.
This week, they met again, unexpectedly, on the same street, both in their 40s now. Karim, with his tangle of black curly hair, and round black-rimmed glasses, was wearing black in mourning. Sadiq, in a simple T-shirt, with a receding hairline now, wore his own sadness like a cloak. Weeks earlier, the so-called Islamic State had made it to this street - and carried out its deadliest attack, ever. 292 Iraqis died here.
I watched the two men say hello, and their moment of recognition.
Read full article Two men from Baghdad - the artist and the entrepreneur