Iraq seeks more help as it sets sights on Mosul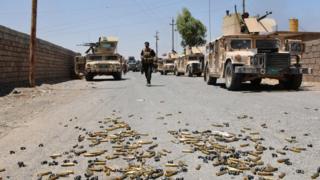 Black banners of so-called Islamic State (IS) flap in the scorching heat of northern Iraq. Fighters' corpses lie where they fell, wrapped in dust, in parched wheat fields.
An Iraqi military convoy hurtles along dirt tracks, kicking up a haze which shrouds deserted shells of houses with a ghostly pallor.
The only speck of colour on this terrain is Iraq's red, white and black tricolour raised on rooftops and tank turrets.
Village by village, battle after battle, Iraqi forces are slowly advancing towards the northern city of Mosul.
In this area, captured in recent weeks, they're now about 60km (37 miles) south of IS's de facto Iraqi capital, where the creation of an Islamic "caliphate" was proclaimed two years ago.
Read full article Iraq seeks more help as it sets sights on Mosul