The couple who want to rebuild their shattered city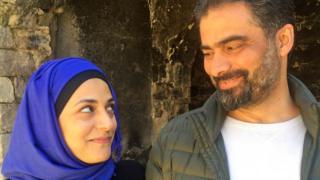 Someday, what seems like Syria's forever war will end. Then the focus will shift to rebuilding a country shredded and scarred by conflict. A husband and wife, both architects, who witnessed their city's devastation are already thinking about how to restore it.
"It's not easy to rise from the ruins, it's not easy," reflects Marwa al-Sabouni.
We're standing in the cool dark depths of a hammam - a public bath dating back to Roman times in the old quarter of Homs. Its thick stone walls are now rough blotches of black and brown, dappled by shafts of light streaming through holes in a domed ceiling designed to draw light into this ancient warren.
The history within these walls is even darker.
"This was a major battleground," Sabouni explains as we walk through the hammam's main chamber, with what remains of a water fountain at its centre.
Read full article The couple who want to rebuild their shattered city