Tunisia museum attack tests transition
22 March 2015

From the section

Africa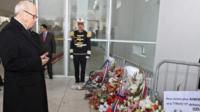 "Degage!" One word says a great deal.
Four years ago, in Tunisia, you heard this forceful command, in French, a lot. It was the rallying cry of "go away" against authoritarian rule during the unprecedented uprising that came to be known as the Arab Spring.
Now you hear that same demand hurled at extreme Islamist groups like Islamic State which have gained a foothold in Syria, Iraq, Yemen, and now neighbouring Libya.
The cry resonates in street protests in Tunis against the attack last week said to have been carried out by gunmen linked to IS. The assault on the country's exquisite Bardo National Museum killed 23 people, most of them foreigners, and inflicted a crippling blow on a vital tourism industry.
Thousands of young Tunisians did "go away" to fight in Iraq and Syria, or to train with radical Islamist groups in neighbouring Libya. But now some who are armed and radicalised are coming home.