Legacy of Iran-Iraq war lives on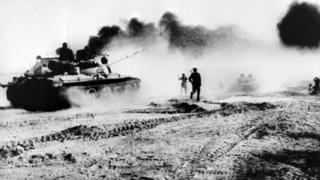 All wars end eventually, and all wars live on.
Thirty-five years ago, the longest war of the last century erupted. But what unfolded as a brutal eight-year confrontation between Iran and Iraq still resonates today.
"On many sides, that war is still being fought, in a way, again and again," reflects Iraqi poet and writer Sinan Antoon, who grew up in Baghdad.
"I think the Iran-Iraq war has had a profound impact on the way in which the Islamic Republic developed," notes Prof Ali Ansari, of the University of St Andrews in Scotland. "The more hardline Revolutionary Guard have used it as a foundational myth."
And the human cost is everlasting.