Week ahead in Parliament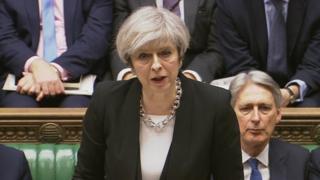 After a traumatic week, it is likely that some of the most significant events in Parliament next week will be statements and questions following up Wednesday's terrorist attack.
The prime minister, of course, made a statement to MPs the day after the attack, and expressed MPs' gratitude to the staff and security teams who guard the Palace of Westminster. There will be many acts of remembrance in the days ahead, while parliamentarians get on with the day-to-day business of democracy.
So watch out for statements around the triggering of Article 50, the formal process for Britain's divorce from the EU, and on the expected vote in the Scottish Parliament, calling for a second independence referendum.
Elsewhere, there's an increasingly fag-end feel to the parliamentary business, with much tying-up of legislative loose ends, as the end of the parliamentary year looms.
One event that's not on the agenda is the long-awaited debate on the plan to move MPs and peers out of their iconic Victorian building to make way for a £4.3bn (at a minimum) restoration and renewal (R&R) project.