The week ahead in Parliament: Brexit bill and Trump debate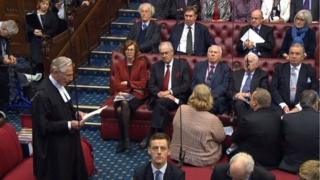 After half term week, it's back to Brexit, as the Article 50 Bill hits the House of Lords for a two day debate, with all the trimmings.
It's got diplomats, generals, bishops, former foreign secretaries, savants, super-lawyers, mandarins, ex-chancellors, immigration campaigners, authors, business folk, and even ex-policemen.
I can predict with confidence that, by tea-time on Monday, everything will have been said, although in the best House of Lords tradition, not everyone will have (yet) said it.
It seems unlikely that the debate will even end in a recorded vote.
The House of Lords normally gives an unopposed Second Reading to government legislation, so it would be a breach of tradition (which is a very big deal on the Red Benches) to force a division - and the only motive would be to record the individual votes, because a thumping majority for the Bill would be the certain result.
Read full article The week ahead in Parliament: Brexit bill and Trump debate