Fragile unity of Brexit Committee dissolves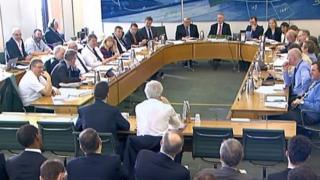 Oh dear. For a while the Commons super-select committee on Brexit has managed to defy predictions (mine included) that it would struggle to unite around strong conclusions and hard hitting reports.
Thanks to Hilary Benn's skilful chairing, it produced two tough reports on the status of EU citizens in the UK and of British residents in the EU, and on the government's negotiating objectives, with its Remain majority and Leave minority both signing up.
But 24 hours before the triggering of Article 50, this fragile unity dissolved, as the Brexiteer contingent - a minority on the committee - left the meeting, rather than fight what they regarded as an unduly gloomy report, by putting down line by line amendments to lighten that gloom.
It was not, incidentally, a coordinated walkout but a process of "drifting away".
There is an argument about process - with the Brexiteers complaining that they were presented with a fully worked-up 155 page draft report, which they regarded as unacceptably pessimistic, without being given an opportunity to shape the basic principles and arguments within it.
Read full article Fragile unity of Brexit Committee dissolves