View from Parliament: what happens next?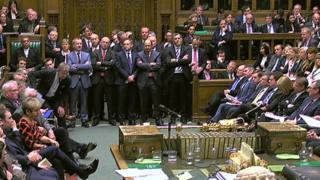 What happens next? Everything at once.
We definitely have a Conservative leadership battle; we may well have a Labour one, as well. (The ever-helpful House of Commons Library has produced a very handy briefing on the rules.) The Scottish first minister has said a second independence referendum is now "highly likely".
And against the background of all that political turmoil, Parliament will have to start the detailed work of interpreting the instruction handed to them by the electorate.
In one sense, David Cameron's decision to go, as soon as a successor can be chosen, does allow a pause for breath; it will be the new prime minister who takes the decision about when to trigger Article 50 of the Lisbon Treaty and start the clock running on a two year negotiation process.
They will name the negotiation team that heads off to rewrite the UK's relationship with the EU, and they will decide the objectives and strategy for that negotiation. So the key decisions will not be taken until David Cameron has departed - but that also guarantees that the leadership election will be dominated by competing visions of the future relationship between Britain, the EU and the wider world.