Week ahead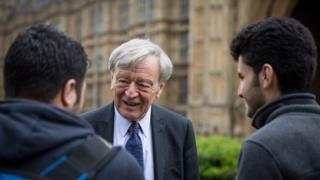 Should the UK admit unaccompanied child refuges from Europe, should the rules defining high income council tenants be changed, should trade unions face tougher controls on their elections and subscription-gathering?
Some major issues remain in play, as the work of Parliament continues to be dominated by the pinging and ponging of assorted bills between the Lords and Commons, as MPs tie up the legislative loose ends of the 2015-16 session.
In the last few days of this parliamentary year, peers, who have inflicted defeat after defeat on the government, on bill after bill, must decide whether to back down, accept concessions, or continue to resist the will of the Commons - and the action could well stretch into the following week.
The result is a rather fluid parliamentary timetable, with plenty of space kept available to deal with the latest rounds of ping-pong, as the two Houses seek agreement on the outstanding legislation.
Expect occasional bouts of ping-pong to be dropped into the agenda of either House at short notice. There's even talk of some early starts for MPs and peers the following week, if the ping-pong is still dragging on.