EU referendum: does Parliament press the button?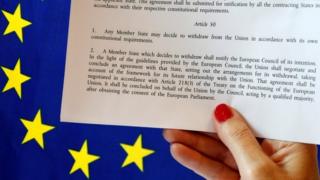 Who presses the button? When is the divorce petition filed?
Whatever the metaphor, the decision to trigger Article 50 of the Treaty of the European Union, the one which provides for member states to withdraw, has emerged as the critical next step.
And a number of constitutional scholars are now questioning whether the prime minister is entitled to take that step, without the explicit consent of Parliament.
There's a very technical argument about whether the "prerogative powers" normally exercised by a prime minister can be used for a decision which would change the law* - but there's some very hard politics lurking behind it.
No room for a rethink
The key point is that once triggered, Article 50 forecloses the possibility of any rethink of the "Leave" decision. That's why many (although far from all) Brexiteers want it triggered as soon as possible, to prevent any backsliding.
Read full article EU referendum: does Parliament press the button?