Week ahead in Parliament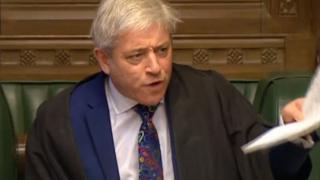 After the sound and fury of the Brexit Bill, the Westminster agenda seems rather more quiet in the coming week, with much of the most significant action taking place on the committee corridor.
The exception may come on Wednesday, when the Lib Dem Leader, Tim Farron, takes the unusual step for a party boss, of presenting a 10-minute rule bill calling for a referendum on the terms of the UK's divorce deal with the EU....
It does not, or course, stand a prayer of becoming law, both because 10-minute rule bills hardly ever do, and because there is virtually no support in the Commons for the idea, and even those who do want a second referendum may balk at backing a bill from the Lib Dems.
But beyond that, just imagine the scene, with the staunchly pro-Leave DUP behind him, and Labour MPs, increasingly infuriated by the way the Libs are seeking to outflank them as the party of Remain, to his right, this could very quickly turn into something resembling parliamentary bear-baiting, even before the Conservatives get involved.
And it might be quite a test for the not noticeably Farron-friendly Speaker, as well. So will we see a masterpiece of pro-Remain performance art, or something rather messy? Parental Advisory; may contain scenes of disorder and bad language.