The importance of the Lords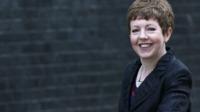 One subtle, but important difference in the House of Lords is where the hundred Lib Dem peers will now sit on the Opposition side…
They've not gone back to their former seats in pre-coaltion days. Instead, they've shifted position slightly, to occupy a strategic space between the Labour peers and the crossbenchers. It's a convenient spot from which to coordinate anti-Government majorities in the Upper House, and exert what little political leverage remains for the Lib Dems in Westminster.
The arithmetic in the Lords certainly suggests that the government will face a hostile majority of peers, quite a lot of the time. But the reality is that that majority will be constrained by the ingrained conventions of the Upper House.
Chief among these is the Salisbury-Addison Convention, the deal struck in 1945, between "Bobbity" Salisbury, the leader of the Conservative peers, (and part of a political dynasty which stretches back to Elizabeth I's Privy Council), and Lord Addison, the old Asquithian minister who then led a tiny band of Labour peers.
Deal struck