Week ahead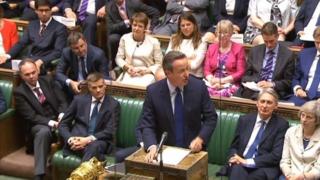 It's a different kind of parliamentary week - the Commons and the Lords are both focused on debating the Queen's Speech, and there's no legislation to speak of, and no action in the Commons parallel chamber, Westminster Hall.
So as the discussion unfolds in a series of themed debates, the main points of interest will be where parties or individuals put down markers on the content of the different measures.
Watch out for comment from the increasingly influential select committee chairs weighing in on such subjects as the sugary drinks tax (Sarah Wollaston of the Health Committee); the implications of the Counter-Extremism Bill (Harriet Harman of the Joint Human Rights Committee), and the Prisons and Courts Bill (Bob Neill of the Justice Committee).
The other thing to watch for in the Commons is the performance of the new intake. In their first Queen's Speech debate, a year ago, they were still finding their feet; now they have a chance to show what they can do, and the government whips have tipped the wink to their backbenchers that Tory talent-spotters will be looking to identify those new MPs who might be ministerial timbre.
But some may be aiming for a different audience. There's a subspecies of new-generation MP whose aim is to carve a career on the committee corridor, so they will be making their pitch as independent-minded and original thinkers, and they will be aiming as much at the other parties as at their own side.