Week ahead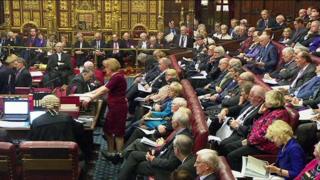 After last week's marathon (drone-athon?) in the Lords, peers will next week get on to the really crucial section of the debate on the Brexit Bill, aka the European Union (Notification of Withdrawal) Bill.
Two days of committee stage debate are scheduled, with more opportunities to press amendments at the ensuing report stage. And there are plenty of amendments down. The question is whether any of them will attract a critical mass of peers, capable of voting through an amendment.
I expect quite a lot of merging of the existing amendments so that they're reconfigured to maximise the coalitions that can be assembled behind them.
There seems to be some head of steam behind three broad causes: the "meaningful vote" by Parliament already promised by the government - where a lot of peers seem to want that assurance from the Brexit Minister David Jones to be written into the bill; the status of EU nationals resident in Britain, where the key player may well be the Crossbench peer and ex-mandarin Bob Kerslake and where a Tory peer, Lord Bowness, has signed up to a Labour amendment; and, perhaps, the Single Market, where there is some pressure to write in a requirement to maintain UK membership in some way.
There are also amendments down about UK membership of organisations like EURATOM, the atomic energy body, and on issues like the border with Ireland, where the former Northern Ireland secretary Peter Hain is active.