What would replace Stormont petition of concern?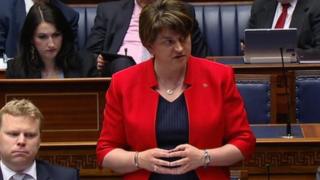 Arlene Foster's indication that she would like to see the Stormont petition of concern scrapped has focused attention on issues like same-sex marriage.
Its introduction has so far been blocked by the veto power despite attracting the support of a narrow majority of MLAs.
However, no-one should leap to the assumption that the Stormont parties will drop the controversial petition system in isolation, without revisiting all of the rest of the Good Friday Agreement's "ugly scaffolding".
Back in 2014, a Stormont committee reviewed the petition of concern system and concluded that there was no consensus for reform.
The committee considered whether the use of such petitions should be restricted to certain key areas.
Read full article What would replace Stormont petition of concern?