Sticking points as Stormont deadline looms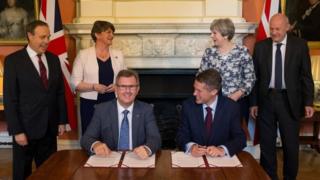 So the cheque is in the post after the DUP agreed to back Theresa May's minority government in Commons votes.
As a result, Northern Ireland will receive an extra £1bn during the next two years as part of the deal, but what could prevent the Stormont parties setting up a power-sharing executive to spend the money?
RHI inquiry
The most obvious sticking point is Sinn Féin's previous stipulation that it won't share power with DUP leader Arlene Foster until an inquiry into her controversial and expensive RHI Renewable Heating Incentive (RHI) scheme is concluded.
That inquiry is expected to take more than a year.
But after her election success and this week's deal, Mrs Foster's position within the DUP appears impregnable.
Read full article Sticking points as Stormont deadline looms