Gerry Adams and the 'N-word'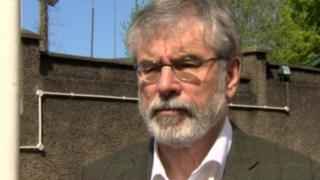 The Northern Ireland Assembly election campaign had been looking dangerously anodyne, especially when contrasted with the high octane row about anti-Semitism within the British Labour Party. Then Sinn Féin leader Gerry Adams decided to go to the movies.
The angry responses to Mr Adams' tweet about the film "Django Unchained" and his subsequent apology for his "ironic" use of the N-word have been well documented elsewhere.
Now the Democratic Unionist Party (DUP) leader Arlene Foster is claiming the remarks pose "as big a test for Sinn Féin as the test facing the Labour Party in dealing with anti-Semitism under Jeremy Corbyn".
Having reported on Mr Adams for many years, I don't believe he would consider using the N-word in a bluntly derogatory or racist manner.
Anyone conversant with modern Irish republicanism knows how strongly Mr Adams and Sinn Féin sought to identify themselves both with the African National Congress (ANC) struggle against apartheid and the US civil rights movement.